Is Walmart entering India's immense ecommerce marketplace? That is the word on the street from various sources this week. Soon after eBay announced it will be investing $133 million in Snapdeal, Walmart has reportedly hired a team of more than a dozen industry professionals to start studying the nation's growing marketplace.
The team, which will include Walmart India's COO Arvind Mediratta and consist of global veteran and vice president for operations in the India office, Steve Rodrigues, will develop an online marketplace and launch it within the next three to four months, according to a report from the Economic Times.
Walmart's business model in India will pretty much replicate that of both Amazon and eBay. However, industry experts point out that the Indian government prohibits foreign retailers to sell wares directly online to consumers. Both Amazon and Walmart have publicly urged the government to open the online retail market to foreign competition. The government has stated that it will consider the recommendation.
"The project has been on for seven to eight months and has gathered pace in the past four to five months," a person speaking with the New Delhi outlet on the condition of anonymity and who has direct knowledge of the situation. "It will be the Amazon and eBay business model."
Walmart has not confirmed nor denied the reports, but has issued a statement in which it does mention both ecommerce and India in the same comment.
"Our experiences worldwide support the fact that ecommerce is an important and growing area that meets our customers' shopping needs. Toward this, we encourage the government of India to consider opening ecommerce for FDI."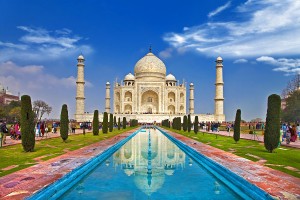 The ecommerce sector in India has only been dominated by a handful of companies, such as Flipkart and Snapdeal. It is projected to become a $22 billion industry by the year 2019, according to estimates from TechCrunch.
Walmart, which has been lagging behind in online retailing during the rise of Internet commerce, has started attempting to take on its rival, Amazon, and follow the trend of other companies, such as Google, Target and Yahoo, by expanding its tech center in Bangalore.
"With companies such as Google, Ebay-Paypal, Zynga etc working from here, it makes sense why Walmart wants to expand its technology unit in India," Anshuman Das, founder and chief operating officer of recruitment firm Careernet Consulting, told the India Times. "Moreover, competition from Amazon is forcing Walmart to invest more in technology."
Perhaps Walmart should tread carefully, though. In 2012, it was discovered that Walmart was accused of participating in bribery over access to the Indian market. Think Digit notes that the allegations include the multi-national retail giant spending roughly $25 million in lobbying fees to get public officials to relax laws pertaining to foreign direct investment in the retail sector.