From the 1930s to 1970s, Dick Tracy was one of the most popular cartoon strips and radio shows in the world. Solving crimes with his yellow fedora hat, quick wit and electronic gadgets, particularly his highly advanced watch, Dick Tracy was as iconic as Coca Cola.
Years later, everyone can become the modern Dick Tracy, of course without the yellow fedora hat and quick wit. Instead, they can sport a watch that has most of the features and functions of the average person's smartphone.
On Tuesday, Google released two new videos showcasing its Android Wear, an operating system that can be worn to allow users to listen to music, dial up a friend, monitor their heart rate and calorie consumption and check up on the latest news, weather and sports updates. Beginning this summer, Google will be unleashing its Motorola "moto 360" smartwatch.
The smartwatches will operate as the individual says "OK, Google" and then they will be able to perform an array of tasks. Each watch will either be round, square or rectangle in shape. The OS will first appear on these watches, but then consist of a wide range of wearables, such as smart glasses, ingestible pills and clothing with embedded sensors.
"Today we're announcing that Android is extending to wearables," said David Singleton, Google's director of engineering for Android, in one of the videos. "We're just getting started, and the possibilities for devices that you wear on your body are endless."
At first, the search engine and technology juggernaut will maintain a focus on its smartwatches and then begin to develop other wearable items with enhanced technological features. Fossil, one of the biggest manufacturers of fashion watches, has been chosen to develop one of the first Android Wear-powered smartwatches. Asus, HTC, LG, Motorola and Samsung are other manufacturers hopping on the wearable bandwagon.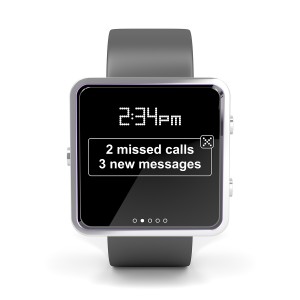 The Vancouver Sun notes that the aforementioned companies could very well be competing against Apple and its highly anticipated smartwatch later this year. However, the iPhone maker has yet to even officially announce a smartwatch as part of its portfolio of products.
Companies are placing big bets on wearables, but does this mean the end of the smartphone? Considering that personal computer desktops and laptops are on the decline, the future could very well spell the demise of the smartphone market. CNN reports that the intention of wearables isn't to eliminate the smartphone but rather serve as a device to gather data from a mobile device.
ABI Research discovered that approximately 90 million wearable devices will be shipped across the globe this year. Most consumers of the wearables are involved in fitness, sports, wellness and the healthcare sector.
The videos showcased what smartwatches can do. However, the future might involve smartwatches serving as an identifier, whether it's for banking information, clothing sizes, food preferences or payment options. The wearable industry is indeed in the infancy stage, but Google has yet again made a significant step forward in technology.