At a time when payday lending has dominated the headlines for the Texas gubernatorial race, a new report came out that found the Camino Real Regional Mobility Authority (CRRMA) will be working with ACE Cash Express to collect tolls for the new César Chávez Border Highway toll road that is slated to begin operation this week.
The El Paso Times broke the story that motorists might have to establish an account to use the road or pay off toll charges at the payday loan company's stores – drivers can still pay these items by phone, online or mail. The outlet also notes that customers will be charged $3 to open up an account and an additional $2 convenience service fee.
Experts say that ACE Cash Express is benefiting directly from the partnership because it is getting potentially thousands of customers into its stores and could very well create new clientele. The company has already conceded this in an interview with the El Paso news outlet.
In an email to the Huffington Post, Raymond Telles, CRRMA Executive Director, said his organization has actually partnered with the North Texas Tollway Authority, which is the one that maintains the ACE partnership.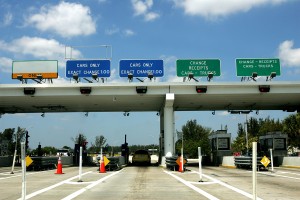 "We asked the NTTA to provide online, mobile app, phone and cash alternatives for El Paso transponder users," he said. "The NTTA has an existing relationship with ACE in [Dallas-Fort Worth], which provides a cash payment option. So, in order for El Paso users to be able to pay cash in person for transponder transactions (as opposed to payments online, by phone or mail), ACE was the only option available to us — just as it is the only non-NTTA cash location available in DFW. The CRRMA does not have a direct partnership with ACE — rather, ACE will be providing these services through their relationship with NTTA. We will also continue to look for ways to expand the available cash alternatives for El Paso users."
It has been reported that the toll partnership with ACE was established in 2010 during Governor Rick Perry's tenure. In addition, which has garnered immense controversy, the man who is head of the state's consumer watchdog agency, is vice president of Cash America, a payday lender in the United States.
Texas has been quite welcoming of the cash advance lending industry in recent years. "Texas is still essentially the wild, wild west of payday lending, where you can see payday lenders charging 400 and 500 percent annual interest rates," said Diane Standaert, senior legislative counsel at the Center for Responsible Lending.
In the past year, payday lending has either become banned in several states or legislatures have started to clamp down on this sector of the economy. Opponents argue that short-term lending comes with exorbitant interest rates and fees and can create a perpetual cycle of debt. Proponents, however, say that industry studies show that their borrowers are satisfied with payday loans and having the option to use one.
Proponents, however, say that industry studies show that their borrowers are satisfied with payday loans and having the option to use one.