Businesses don't want to bring down the Federal Reserve. Merchants aren't interested in ending the conventional financial system. Retailers aren't looking to eliminate Visa, MasterCard or PayPal. No, they're a neutral body and just want to succeed in today's difficult economy.
Over the past year, merchants all over the world have begun installing bitcoin payment technologies to allow their customers to pay in the digital currency. This has proved to be a successful venture, even if bitcoin folds, collapses and is never heard from again, because it's not necessarily a risky endeavor.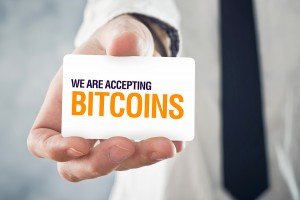 A company simply adds an option of paying for a good or service in bitcoin. It's not as if businesses are holding bitcoins for an extended period of time and hoping the virtual currency will shoot up. A lot of them are simply converting their bitcoin sales into dollars, euros and yuan.
Merchants garner two important benefits from using bitcoin: publicity and savings.
Publicity
Whenever an online or brick-and-mortar retailer begins accepting bitcoin then it immediately generates buzz, garners publicity and has a big chance of being mentioned in news reports written by Reuters, the Associated Press, Agence-France Presse, CNBC, Bloomberg Businessweek or PFHub.
By simply introducing a new payment system, a company can experience a boom in business. This was an apparent in Overstock, which announced that it would allow bitcoin payments. At the present time, it's doing between $20,000 and $30,000 per day in bitcoin transactions, a pretty penny for any business.
Bitcoin has a tremendous following from both proponents and critics. A day doesn't go by where bitcoin isn't cited by some newspaper, blog, financial institution or central bank. If you want some additional customers browsing your store then maybe bitcoin is the answer.
Fees
Each time a customer pays with a credit card then the merchant pays a certain percentage called the "merchant discount fee." The number varies, but it's usually between 1.5 percent and three percent. For instance, if the price tag is $100 then the merchant could be forking over between $1.50 and $3 for that purchase. This is why sometimes convenience stores have a minimum or charge 25 cents for anything under a threshold.
PayPal operates the same way. Users still pay fees, mostly 2.9 percent and 30 cents per transaction.
In a tough economy, these are high rates for any small business. This is why bitcoin is attractive to a growing number of businesses that see they can pay pretty much next to nothing when doing business in the marketplace. Why pay fees when a business could pay zero by simply adopting bitcoin or any other virtual currency?
This is another reason why finance and tech experts pontificate that bitcoin could be a major threat to the establishment financial system. Although Visa and MasterCard, and even PayPal to a certain extent, are hiding their concerns, it's likely that these credit card companies are running to the government seeking to impose legislation.
West Virginia Democratic Senator Joe Manchin recently called for the ban of bitcoin late last month. Who are his largest contributors? Answer: the commercial banking and Securities and Investments sectors.