Bitcoin holders are scratching their heads Tuesday morning after one of the world's biggest bitcoin exchange platforms, Mt. Gox, might have vanished off of the Internet forever, its founder gone and its Tokyo-based office empty. Mt. Gox officials have not responded to telephone calls, emails or to protesters, who held signs asking: "Mt. Gox, where's our money?" and "Mt. Gox, are you solvent?"
The Mt. Gox homepage comes up blank without an error message. Its source code had a line that read, "put announce for mtgox acq here."
Unverified documents making the rounds online show that approximately 744,000 bitcoins ($370.2 million) were "missing due to malleability-related theft" and maintains liabilities totaling $174 million compared to $32.75 million in liabilities.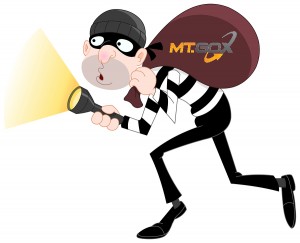 The documents say that there is speculation that this is the end of bitcoin, but numerous ardent supporters of the digital currency argue that the inherent problem lies with Mt. Gox and not the virtual currency itself. The value of bitcoin has dipped below the $500 mark.
"With Bitcoin/crypto just recently gaining acceptance in the public eye, the likely damage in public perception to this class of technology could put it back 5~10 years, and cause governments to react swiftly and harshly. At the risk of appearing hyperbolic, this could be the end of Bitcoin, at least for most of the public"
In a joint statement, leading bitcoin operators called the incident "tragic."
"This tragic violation of the trust of users of Mt. Gox was the result of one company's actions and does not reflect the resilience or value of bitcoin and the digital currency industry," the companies – Coinbase, Kraken, Bitstamp, BTC China, Blockchain and Circle – said in the statement. "As with any new industry, there are certain bad actors that need to be weeded out, and that is what we're seeing today."
To perhaps save their investments, some are calling for Japanese authorities to intervene. However, the Wall Street Journal reports that the federal government, state regulators and the Bank of Japan have already confirmed in statements that it cannot be held responsible for any loss in digital holdings.
A spokesperson for the nation's central bank said Friday that it "is not in a position" to regulate the cryptocurrency or any of the exchanges. The Ministry of Finance, meanwhile, stated Monday that it is not part of its policies to supervise bitcoin and services in relation to the digital currency. The Internal Affairs and Communications Ministry also said it won't intervene because "we are not in a position to make any judgments on this matter."
What will happen next? Will the bitcoin community itself and its leaders step in (much like Ben Bernanke or Mark Carney would)? Will a United States-based bitcoin exchange finally be created? According to a report from Fortune, Second Market is established a bitcoin exchange platform in New York.
Another important question to ask is: although a multi-million-dollar theft has allegedly taken place, is it hypocritical for the bitcoin community to seek assistance from authorities despite wanting to disassociate a currency from government? Central banks across the globe have repeatedly told citizens that it's not responsible for any digital currency holdings.
For more Bitcoin news follow PFhub on FaceBook, Twitter or bookmark this page.