It finally seems that after a long dispute between both parties, Men's Wearhouse has acquired rival Jos. A. Bank for $1.8 billion. Men's Wearhouse announced Tuesday that it will be paying $65 per share, a five percent premium to its competitor's most recent closing price. It originally offered $63.50 per share but some conditions were met.
The conglomerate will maintain more than 1,700 stores in the United States. In addition, Jos. A. Bank will likely keep the name on their outlets as well as continuing to offer its well-known buy one suit, get three free deals. Executives say there will be a very smooth integration between the brands without any remodeling, redecorating or rebranding efforts.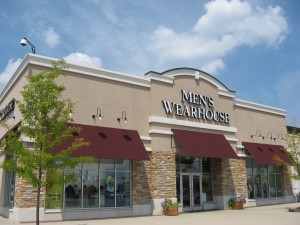 Both companies explain their business models complement each other. The merger will be a benefit to customers because there will be improved efforts in its sourcing and merchandising capabilities. Also, there will be expansion locations to serve an extended clientele base.
"Together, Men's Wearhouse and Jos. A. Bank will have increased scale and breadth, and Jos. A. Bank's strong brand and complementary business model will broaden our customer reach," Doug Ewert, president and CEO of Men's Wearhouse, said in a statement Tuesday.
"The combined company will have the operational flexibility to successfully execute on strategic plans at both brands. We are excited by the opportunities this transaction presents and are confident that our combined best-in-class offerings for our valued customers will drive significant shareholder value. All of us at Men's Wearhouse have great respect for the Jos. A. Bank management team and are eager to work with Jos. A. Bank's talented employees. I am confident that, together, we will create a truly great company for all of our stakeholders.
The transaction is expected to be completed sometime in the third quarter of this year.
Initially, Jos. A. Bank, headquartered in Hampstead, Maryland, was set to purchase the parent company of Eddie Bauer, but noted that it would keep the door open in case of a better acquisition offer. The offer did come and it decided to end the deal and pay a termination fee instead.
Men's Wearhouse provides its male customers with suits and sportswear at its more than 1,200 stores under the company banner as well as K&G and Moore's retail chains. In addition to this week's acquisition, it announced last year that it would purchase the Joseph Abboud brand for close to $100 million in cash.
The company made headlines last summer after it ousted its founder George Zimmer, who was also the executive chairman and the advertising personality in its television commercials. After Men's Wearhouse lambasted Zimmer, he shot back in an open letter and instead called the Board of Directors stubborn.
"To justify their actions, they now have tried to portray me as an obstinate former CEO, determined to regain absolute control by pushing a going private transaction for my own personal benefit and ego," Zimmer wrote. "Nothing could be further from the truth."
Men's Wearhouse finished Tuesday's trading session at $57.28.