Last month, Facebook (NASDAQ:FB) generated headlines after it purchased WhatsApp, a mobile-messaging startup firm, for $19 billion in cash and stocks. The deal made WhatsApp co-founder Jan Koum a billionaire overnight. However, that arrangement may come to an end after a complaint was filed with the Federal Trade Commission last week.
In a joint complaint submitted by Electronic Privacy Information Center (EPIC) and the Center for Digital Democracy, the two Internet privacy groups are expressing their concern over the fact that the social networking juggernaut may very well exploit WhatsApp's user data for advertising purposes.
"WhatsApp built a user base based on its commitment not to collect user data for advertising revenue," the two entities said in a joint complaint. "Facebook routinely makes use of user information for advertising purposes."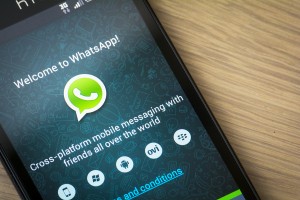 It added: "WhatsApp users could not reasonably have anticipated that by selecting a pro-privacy messaging service, they would subject their data to Facebook's data collection practices," the complaint read. "[Facebook] made it clear that it intends to incorporate the data of Whats App users into the user profiling business model."
At the initial conference call with reporters, both Mark Zuckerberg and Koum confirmed that nothing would change at WhatsApp and it would continue its independent and autonomous operations without any interference from Facebook. Zuckerberg even went as far as saying that advertising isn't "the right way to monetize messaging services."
In 2009, Koum wrote about how WhatsApp does not sell user information and then reiterated his stance in 2012 when he stated: "we are simply not interested in any of it."
However, the two Internet privacy organizations say that WhatsApp might not store any of the messages sent by its users, but Facebook stores messages that were never sent in the first place. In fact, once a user deletes a message on Facebook it is still stored on the company's servers.
The Wall Street Journal reports that some privacy experts are concerned over the WhatsApp-Facebook deal. Many of those worried cite Instagram as a good example to legitimize their suspicions. Once Facebook took over, Instagram has begun to insert advertisements – we reported that Instagram has now completed a lucrative $100 million one-year deal with Omnicom, an advertising and media agency.
Despite the justifiable concerns, analysts say it's quite unlikely that the FTC complaint could entirely block the deal. Eric Sheridan, an analyst at UBS, already raised his price target on Facebook to $90 per share because of the multi-billion-dollar deal last month.
Neither Facebook nor WhatsApp have responded to media requests for comment.
This isn't the first time that EPIC has made its privacy wariness public. In 2010, EPIC made a complaint highlighting that Google Buzz showcased a list of the individuals who they frequently emailed and chatted with. The FTC then investigated the matter and settled with the search engine giant.