Facebook Inc. (NASDAQ:FB) is starting to see real gains from reaching the 100 million user mark in India earlier this year as more and more paid advertisers are lured by access to such a large number of potential Indian consumers. The biggest draw to advertising on Facebook is the fact that it offers targeted marketing that allows an advertiser to market to, among other things, a specific age group.
Companies such a MobiKwik an Indian based start-up offering mobile payment services is able to target 25 to 30 year old Facebook users with their advertisements. MobiKwik chose this age group as it is the highest growth age group for new android phone purchases. However, it is not only local companies that are jumping on the Facebook advertising bandwagon as a lot of multi-nationals such as Pepsi, Lufthansa and Samsung are using the social network site to promote Indian versions of their global brands.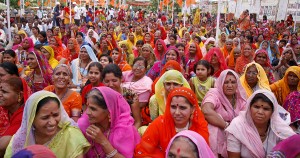 At the end of 2013 Samsung was able to do an advertising campaign using different ads for men and women based on Facebook's targeted marketing option. But it is not only reaching a specific type of consumer that has got advertisers reaching for their checkbooks. Many also value Facebook as a sounding board for new products as it allows them to get valuable feedback from the millions of users when promoting new products.
For companies that primarily target younger people, Facebook is an invaluable tool as around 80% of users are under 35. Facebook has yet to fully reap the benefits of the 100 million users with only around $50 million of its $7.87 billion income is generated from its second largest user base.