The real estate marketing industry has dramatically changed in recent years. With a highly competitive and expensive housing market and a hiccup in sales, agents and homeowners are employing a wide spectrum of marketing tricks to get potential homebuyers to sign on the line which is dotted.
One of these marketing tools is the use of drones. The Federal Aviation Administration (FAA) has involved itself in this matter. Although real estate is local, the skies are a national matter.
Unmanned aerial vehicles (UAS) are being used by homeowners to capture a greater visual for interested prospects, while commercial and residential property owners want to garner a better assessment of the overall property. These drones can help accomplish both.
Incorporating aerial photography and video footage into a real estate marketing plan is limited right now, but it could one day revamp the entire industry as it can stand out and perhaps even add value to the lot. Of course, only if the FAA allows it.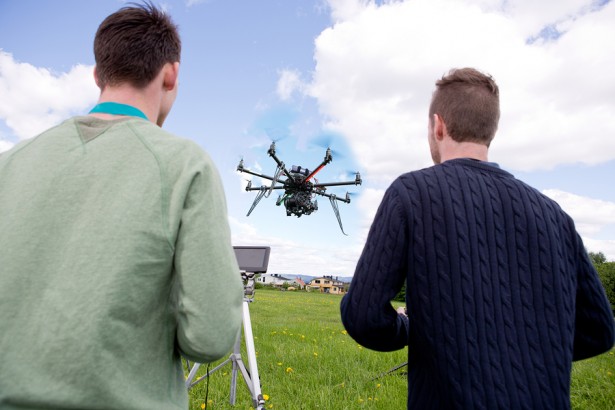 Sometime in the next two years, the FAA will release official guidelines on the use of drones for commercial purposes, including real estate marketing. Last month, the FAA issued a series of proposed guidelines that would effectively permit real estate agents to utilize drones in their schemes. In order to receive permission, individuals have to apply for permits and registrations as well as only using drones at certain times of the day and in specific places.
A few of the other rules consist of flying the drones at an altitude of 500 feet at 100 miles per hour; drone flights have to be in visual line of sight; and commercial drone operators have to be 17 years old and take an aeronautical knowledge test and then be given a permit to fly, something that has to be renewed every two years.
Many are outraged by these rules, particularly hobbyists, who say their small drones pose very little risk to the general public at large.
Various local news affiliates have profiled real estate agents and their adoption of drone footage. The Tucson Sentinel reported of John Karadsheh, a broker for Kor Properties in Mesa, who previously utilized drone footage but then stopped once the regulations became too difficult.
"I've kind of backed off using them for now, but I would love to continue using them. I would absolutely use more drones if it were legal," said Karadsheh. "I've heard horror stories of (real-estate) agents who have gone out and spent a few thousand dollars on drones and have never flown them, or crashed them and wasted all that money. I would suggest that you leave it to someone who knows how to operate it. It could be dangerous."
James Arrowood, an attorney with Frutkin Law Firm in Scottsdale, told the news outlet that there is a certain level of privacy that people expect, which is already a part of state law. For instance, if a drone captures a homeowner sunbathing in the nude then the drone operator could face civil and criminal penalties. In order to avoid this, some real estate agents seek permission from neighbors.
Doug Trudeau, an agent at Tierra Antigua Realty in Tucson, performs a pre-flight test and also urges neighbors if they have any privacy concerns because then he would adjust his flight path.
Until the rules are finalized, certain realtor associations are encouraging sellers to refrain from using drones for their properties.