City Orders Swing Set Removed
According to a report from CBS, a family in Santa Fe Springs, California has found themselves in a battle with the city over their handicapped daughter's swing set. The backyard playground was a gift from the Make-a-Wish Foundation for the ten-year-old special needs child. The report goes on to explain, "A family says they feel unfairly targeted by the city of Sante Fe Springs after they were told they had to dismantle a backyard playground that means the world to their special needs child. The Miranda family said the play set was a gift from the Make-A-Wish Foundation for their 10-year-old daughter, Tiffany, whose severe seizure disorder makes it practically impossible for her to go to a city park."
City Says Special Needs Child is Not Their Problem
Tiffany's mother, Jessica Torres shared with CBS that her daughter "just loves" the play set. She and her husband, Felix are in shock that the city would call the set a "public nuisance" and order them to remove the playground. Torres went on to say, "When I asked the city, 'So where do you expect my daughter to play?' they said 'Well, the city's not responsible for your daughter's disability,'" Torres said. "They said 'Your Tiffany is not our problem.'" The city manager is claiming that the city is "concerned for the health and safety of the family" because of clutter around the play area.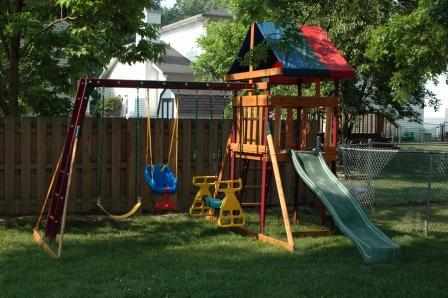 Family Shows Play Set not a Nuisance
In response to the allegations that her daughter's play set is a public nuisance due to clutter, Torres showed a CBS reporter her backyard, the area around the play set, and inside of her house. All of these locations were found to be "neat and tidy" according to the report. Torres, an oncology charge nurse at Beverly Hospital in Montebello, showed the reporter, Adrianna Weingold, a few of the tickets which the city has sent out to the family. In those tickets, the family was ordered to "remove all items from their front and backyard, including all playground equipment."
City Changes Tune After Media Attention
Once this story was brought to the attention of the media, the city seemed to have changed its tune. While the city admits that the family was asked to clean up around the play set, it claims that the playground can stay, despite what is written on the ticket. Torres and Felix both say that they were never told that the play set can stay. Torres added, "I'm not going to let this go. I'm not going to remove the playhouse and I'm not going to remove her canopy and I want them to stop picking on my Tiffany."
What Do You Think?
Should Tiffany be forced to give up her play set, a gift from Make-A-Wish? Do you feel that the city lied to cover its tracks after the media attention? Is our government becoming too much of a nanny?