This week, a few more traditional brick-and-mortar chain stores announced that they would be shutting down additional outlets. What was once the beacon of American capitalism and free markets since the mid-20th century has now transformed into heightened competitive 21st century online retail thanks to the likes of Amazon and eBay.
Radio Shack confirmed Monday that it would be closing down up to 1,100 stores in North America. A few days later, Staples said it would be shutting down an additional 225 stores. J.C. Penney released plans in January that include closing 33 locations, while a slate of others – Sears, Kmart, Office Depot and Macy's – are also following the trend.
Most retailers publicize store closings at the beginning of the year once the fourth-quarter, holiday season numbers come in. However, with each year passing and more innovation in the Internet retail landscape, more and more brick-and-mortar establishments close their doors and either minimize their operations or improve their ecommerce initiatives.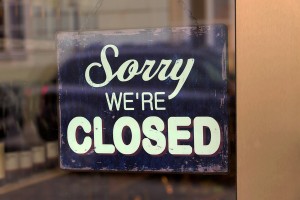 Whether it's groceries, apparel, electronics or furniture, everything can be purchased online and perhaps at a cheaper price. Even consumers that fear purchasing clothes online no longer have to worry, at least not in the future. IBM published in its "5-in-5" list in 2012 that soon computers will be able to see, taste, smell, touch and hear things. This means customers won't have to worry about how a certain piece of clothing feels or if it fits.
In addition to convenience and cost, there are other factors at play when it comes to the showdown between brick-and-mortar stores and the Internet businesses.
Shopping center professionals make the case that there is just simply too much retail space in the marketplace today. According to a CNN interview with Robin Lewis, CEO of The Robin Report, there are roughly 46 square feet of retail space for each person in the United States, which amounts to about five times the space than in any other nation.
Another aspect is the fact that online retail isn't necessarily causing the trend of brick-and-mortar closures but rather just making the derelictions of chains more painful. "But the online business makes the market more saturated. That's enough to turn what might have been 100 store closings into 120," said Greg Apter, president of the Chicago-based Hilco Real Estate.
Best Buy made headlines last year when it announced that one of the reasons it has seen declines in sales was because consumers practiced what is called "showrooming." What this means is that customers will go into the store, test out products and then head online to buy it. However, the retailer has actually embraced the concept by launching an advertising campaign informing customers that they can take advantage of its "low price guarantee" and ordering a product online and then picking it up in the store.
Best Buy shares have now climbed due to strong profit and cost reductions.
Some in the retail industry are optimistic that conventional stores will win out. Toys 'R Us Chairman Jerry Storch told CNBC in 2012 that retail stores have essentially become small distribution centers for the Internet.
"The world is evolving. The Internet is transformational, but it's not just the exclusive playground of Internet-only companies," he said. "In fact, it's the stores that are going to win in the end because of the physicality. Everything that's going on the Internet is about mobile and about physical, the ability to see what's going on in my neighborhood and act on it immediately."
Storch listed the benefits of shopping in-store, such as receiving the product immediately, avoiding shipping costs and not having to worry about when the delivery man will arrive at your door.
Who will win the hellacious war between online and in-store? The consumer will eventually decide.