The Bank of Canada is not concerned about the growing popularity of bitcoin.
Delivering testimony to the Senate banking committee Thursday, the nation's top banking officials explained that it was still too early to tell if the cryptocurrency industry will go mainstream. It if there are signs that bitcoin will experience widespread adoption then it will install policy directives.
"These are early days … and so far digital currencies have not made it to what we call money," said BoC governor Stephen Poloz. "We've got a ways to go before we need to be thinking about policy implications."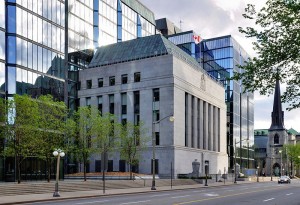 Poloz added that officials at the central bank have been given tasks to monitor the digital currency.
Tiff Macklem, the second in command at the Bank of Canada, agreed and noted that any monetary policies regarding virtual currency would only be speculative and predictions about something that could or could not happen in the future.
The central bank heads did conclude, though, that bitcoin can't threaten the money supply because it's backed by the state and is highly regulated.
"I started with the bank in 1984 … and through my entire career at the bank the demise of cash has been much predicted," said Macklem. "Cash has been remarkably durable, even with the introduction of credit cards and debit cards and tap-and-go cards. If you look at the growth of cash in the economy, it's grown roughly in line with the growth of nominal income."
Earlier this year, we reported that the federal government and the Bank of Canada were monitoring the developments of bitcoin and other virtual currencies. At the time, the Department of Finance confirmed that only bank notes and coins are recognized as legal tender in the Great White North.
"Bitcoin digital 'currency' is not legal tender in Canada," the finance department wrote in a statement.