Apple makes headlines even when it launches a simple update to its iOS so when Apple Inc.'s (NASDAQ:AAPL) interest in making an electric car became public knowledge the market started buzzing once again.
Analysts and experts started rolling out their opinion on whether or not Apple will be successful in this field or not; well that remains to be seen; however for now the real question in how will Apple handle its biggest competition in the electric car market, Tesla Motors Inc.
Tesla currently dominates the electric car market in terms of unit volume, sales and revenue. One thing is for sure if Apple were to enter this market for real then it will have a plan to tackle its biggest competition. Sure Apple is Apple, the most valuable company in the world. However taking on an electric car manufacturing project is quite different then rolling out smartphones.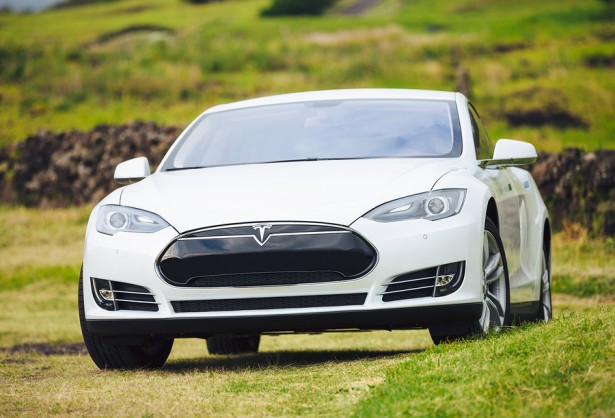 There is simply no doubt that Apple will have all the expertise in technology, but building a car means having the right team and Apple wouldn't want anything but the best. But Tesla may have most of what Apple would need. So what can Apple do?
There are two options for Apple, not that the company cannot create more, but in my opinion Apple can either partner up with Tesla or it can buy Tesla out (this scenario is floating around in the market already). The later is the solution which a few shareholders want Apple to go for.
Tim Cook has been asked about Tesla at least twice during the shareholder meeting that is held every year.  One of the shareholders came straight out and said "quite frankly I would like to see you guys buy Tesla". This statement received mixed reaction from the crown present at the Q&A session; some laughed at it while others applauded the thought.
Tim Cook however was more guarded than the shareholder and simply stated that Apple at the moment does not have any sort of relationship with the leading electric car manufacturing company. He then said that Apple would "love" if Tesla adopted the iPhone's in-car software called as CarPlay.
Cook was not hesitant to say that he was actually dodging the question and jokingly asked if his answer was a good way to do so.
Another shareholder also expressed his wish to make something happen with Tesla. But Cook was very determined in not letting any plans that Apple may have for Tesla slip.
So far news about Apple entering into the market for electric cars is mostly based on rumors and speculations. The tech giant's biggest shareholder, Carl Ichan also said that he looks forward to having the experience to drive an Apple Car; he further said he looks forward to do so "in the distant future".
The downside; One thing is for sure that the project will require a lot of money; Apple Inc. (NASDAQ:AAPL) has cash yes; it has investors yes; but something of this scale will not be a short-term investment; it needs to be thorough because Apple practically will be starting a whole new business. Yes Apple's success ratio is nothing short of great, but it has seen failure with some of its projects in the past.
The upside; it's Apple; if any company can take on a challenge of this stature, it's Apple. It has its investors faith, which is enough for any corporation to take on something as big as starting a new large-scale segment.