The latest rumors concerning Apple Inc. (NASDAQ:AAPL) floating around at CES are that the a thinner, and lighter fifth generation "iPad 5" will be released in March as the tech firm moves to a permanent twice a year refresh cycle. This rumor also insinuates that there will be a lightning-fast refresh cycle on the iPad Mini as well, asserting that an iPad Mini 2 will be released in the same time frame.
This latest bit of Apple buzz comes from Topeka Capital Markets' Brian White, who Apple Insider claims has conducted checks with several industry sources at CES though Apple never maintains an official presence at the event. It seems that White was told that the updated model will also include a new A6X processor and Apple's smaller Lightning chip, but will maintain the same design as the third generation iPad. An iPad Mini 2 is believed to offer no more than upgraded components as well. No mention of the rumor that the resolution of the next-gen iPad Mini or the inclusion of a high-res retina display was made.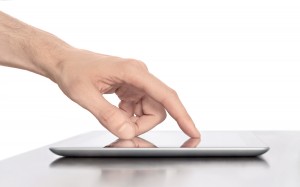 White is also recently known for circulating the rumor that new iPhones will be released in the May-June timeframe and that they will be available in more colors than the standard black/white Apple Inc. dichotomy this time around. This new timeframe would be far earlier than iPhone cycles Apple has maintained for the past two years.
This may be promising news for an Apple bid to snap up more of the emerging tablet and lite tablet market, as Samsung recently announced that it would be nixing plans for a one running on Windows RT platform. Apparently consumers are confused about the differences between RT and 8. Many are upset that they are not able to run programs that require full Microsoft functionality on RT's cell-phone chip base, like the Office suite.
According to reporting from Shara Tibken of CNET, it seems the biggest problem that plagues RT tablets is convincing consumers of their value proposition. While RT devices are significantly cheaper than ones running full versions of Windows 8, but research shows potential end users don't really know what to do with the Microsoft brand outside of Office in U.S. markets. There's no official announcement yet made as to what Samsung might do with the highly buzzed about Ativ Tab device in other markets. Perhaps there's a niche that can be filled there if Microsoft and Samsung can work together to carve one for the device if the companies can find it worth the investment.
Mike Abary, Samsung's senior vice president of U.S. PC and Tablet business stated last week that it was determined doing so in U.S. would require too much investment.
When it comes to introducing a new product to the marketplace, it appears that clear branding is everything. Apple and Google have got a lock on theirs. And unless Windows can get it together, 8 and RT will just be a wasted attempt at entering a product cycle Microsoft just doesn't understand.