A payday loan, otherwise known as a cash advance, was initially designed to cover an unforeseen expense such as a medical emergency, rent or a car loan payment. The payday loan industry has been marred with controversy as well as vitriol from both the government and citizens. A new study is arming industry critics with even more ammunition.
The United States Consumer Financial Protection Bureau (CFPB), a federal watchdog agency, published a new report Tuesday that discovered close to half of all payday loans are given to customers who simply extend the loans so many times they end up paying more in fees and interest than the initial borrowed funds.
According to the study, four to five payday loans are extended within just 14 days. When this transpires, additional fees are charged when loans are rolled over. In addition, a majority of payday loan borrowers either extended a payday loan throughout the year or default on the loan.
Other findings from the report:
15 percent of borrowers repay their debts on time
64 percent renew one loan at least once
22 percent of payday loans are extended by borrowers six times or more
15 percent of payday loans are extended 10 times
"We are concerned that too many borrowers slide into the debt traps that payday loans can become," bureau director Richard Cordray said in a statement. "As we work to bring needed reforms to the payday market, we want to ensure consumers have access to small-dollar loans that help them get ahead, not push them farther behind."
The data was compiled using information from approximately 12 million short-term loans in 30 states in the years 2011 and 2012. The CFPB report describes payday loans as short-term loans with high interest rates and are usually $500 or less targeted towards customers with low incomes or weak credit ratings.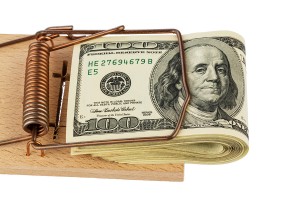 Opponents of the payday industry say these businesses take advantage of those who can't afford it. "Payday loans are probably one of the best examples of people being taken advantage of or wasting their money. Unfortunately, the people who take them out are either uneducated about finance or think they have no other options," said Gary Schatsky, a New York City financial planner and president of ObjectiveAdvice.com, in an interview with CNBC. "They think it's a simple fix, but as with many simple fixes, they are often extremely expensive and ill advised."
In several states across the country, the government has placed caps on the interest rates charged by the lenders. Through different laws and regulations, payday loan establishments cannot be found in states like Arizona, Arkansas, Connecticut, Georgia and West Virginia. Texas Democrats are trying to make payday loans an important topic of the gubernatorial election.
North of the border, in Canada, New Democratic Party leader Thomas Mulcair vowed to his caucus to be tougher on Prime Minister Stephen Harper this year in regards to high interest rates on payday loans, immense ATM fees and the Keystone XL pipeline.
The payday loan industry has been clear that its business helps those who have experienced financial difficulties and unexpected situations and need assistance until they get their next paycheck. Industry studies have found that clients have been pleased with the service and are responsible when it comes to paying back the debt on time and in full.
Although there are no official figures, it is estimated that the payday loan industry is valued anywhere between $2 billion and $42 billion. However, due to fierce legislation, the industry is no longer a growing sector and it could very well meet its demise and become extinct within the next decade if public officials have their way.
Finance experts urge consumers to understand what the full loan amount is, determine what it'll be used for, decide which company will be used for the loan, think if you can pay it back and never consider using multiple lenders.