Most governing and opposition parties in the UK have had their share of political scandals through the years. The British media has had a field day with political scandals on various occasions. The lurid details of financial and sex scandals have been splashed across the British tabloids, resulting in many high profile personalities resigning and tendering public apologies. Here are a few such scandals:
Navigation Menu of UK Political Scandals
1. Fake Suicide Scandal
2. Lavender List Scandal
3. Sale of Arms to Iraq
4. Tobacco Advertising Scandal
5. Tessa Jowell Financial Scandal
6. Moment of Madness Scandal
7. Cash for Honours
8. Parliamentary Expenses Scandal
9. Profumo Scandal
No. 1: Fake Suicide Scandal – 1974
This 1974 scandal involving British politician John Stonehouse had the makings of a mystery-novel plot. Stonehouse had a distinguished political career, being MP of Stonewall and Secretary to Minister of Aviation. In 1969, allegations that Stonehouse was a Czech agent first surfaced. Though the accusations were never confirmed, he found himself sidelined after the Labour Party lost the 1970s election.
Stonehouse then decided to become an entrepreneur. His business ventures were a failure and he started indulging in fraud. After he became aware that the Department of Trade and Industry was keeping a close watch on him, he hatched a plot. He managed to make two fake passports and fled to Australia. But not before faking his suicide by leaving his clothes on a Miami beach and disappearing all of a sudden. This did not last long- he was discovered in Melbourne and consequently sentenced by the British judiciary to seven years in prison.
No. 2: Lavender List Scandal – 1976
The Prime Minister's Resignation Honors List to mark Prime Minister Harold Wilson's resignation was referred to as the 'Lavender List' after the issue erupted into a controversy. The strange list consisted mostly of wealthy businessmen who were at that time opposed to the ruling party's policies. Ironically, two businessmen on the list were convicted of fraud in the late 1970s. The media criticized Wilson's decision to give knighthoods and peerages to such businessmen, calling his list 'eccentric'. The name 'Lavender List' was coined after it became known that the original draft of the list was written on lavender-colored notepaper.

No. 3: Sale of Arms to Iraq – 1990
After the 1991 Gulf war, it was alleged that the UK government had sold arms to Iraq, under the rule of Saddam Hussain. The government had advised Matrix Churchill, a company that manufactured tools to produce weapons, on exporting the tools to Iraq and how to go about the dealing without attracting public attention. After the incident was exposed, Prime Minster John Mayor's approval rating dipped further and contributed to the landslide win for Tony Blair's Labour party in the '97 elections.
No. 4: Tobacco Advertising Scandal – 1997
The Labour Party had promised to ban tobacco advertising in its election manifesto during the 1997 general elections. During the time, all major Formula 1 teams were sponsored by leading tobacco brands such as Rothmans and Marlboro. F1 owner Bernie Ecclestone appealed to Tony Blair's chief of staff for an exemption, claiming that loss of tobacco money would cause redundancies and losses. F1 was subsequently exempted from the tobacco sponsorship decision. The media criticized this decision and further inquiry revealed that Ecclestone had donated £1 million to the Labour party. Tony Blair later publicly apologized for not handling the issue properly and said that the money would be returned.
No. 5: Tessa Jowell Financial Scandal – 2006
Tessa Jowell, UK Secretary of State for Culture, Media and Sport in the Labour Party, was accused of corruption. The scandal revolved around her lawyer husband's false evidence in Italian prime Minister Silvio Berlusconi's court case, for which he was paid £340,000 pounds. Jowell then converted the money into a hedge fund. She claimed that she had no involvement in the scandal and made a statement that she would separate from her husband.
No. 6: Ron Davies 'Moment of Madness' Scandal – 1998
In a humiliating incident, Welsh Secretary of State and Member of Parliament Ron Davies resigned after being embroiled in a gay sex scandal. In 1998, he was spotted chatting with a man in Clapham Common, a well-known gay meeting place and was later mugged in the same area at knife point. When this news made it to the papers, he admitted to being bisexual and suffering from a personality disorder. Davies, on the instructions of Tony Blair's press secretary to play down the incident, told the media that he had done it in a 'moment of madness'.
No. 7: Cash for Honours – 2006-2007
The 'Cash for Honours' scandal made the news in the UK in 2006 and 2007. It revolved around the link between political donations and award of life peerages.
In March 2006, many men who were recommended for life peerages by Prime Minister Tony Blair were rejected by the House of Lords Appointments Commission. It was discovered that the men had loaned substantial sums of money to the Labour Party, in a deal proposed by Labour fundraiser Lord Levy. The selling of honours case was handed over to the Metropolitan Police. During the investigation many members of the Labour Party, including Tony Blair were called for questioning by the police. The scandal brought disgrace to the Labour party and they were ordered to repay the loans.
No. 8: Parliamentary Expenses Scandal – 2009
This major political scandal revolved around the expenses claimed by Members of Parliament over many years. The British Public was shocked and angered after The Telegraph published details of MP's expenses. The list revealed the misuse of taxpayer money by MPs and after the incident came to light, they promised to repay the money. The scandal resulted in a number of resignations, sackings and public apologies.
No. 9: Profumo Scandal – 1963
The Profumo Affair of 1963 is one Britain's most shocking sex scandals involving John Profumo, Secretary of State for War. Profumo, a married man, got involved with call girl Christine Keeler in 1960. The relationship did not last long. But news of the affair became public in 1962 and to add to his woes, it was alleged that Keeler was also in a relationship with Yevgeny Ivanov, a senior Soviet Russian officer.
The political ramifications of such an affair during the time of Cold War were serious and Profumo had to make a statement on the issue. He however denied the allegation in the House of Commons in March 1963. Shortly thereafter, he confessed to lying about the affair and stepped down from his cabinet post. During the scandal, provocative pictures of Christine Keeler found their way into British tabloids. The scandal almost brought the government down and references to the Profumo affair have been made in many songs and movies.
Many of the UK's politicians have misused their powers and brought shame upon themselves by getting involved in shady financial deals and sexual exploits. One of the world's oldest constitutional monarchies and successful economies has been in the news for all the wrong reasons because of political scandals. While most British politicians have ended up admitting their mistakes and apologizing to the public, there would be many cases that have simply gone undetected.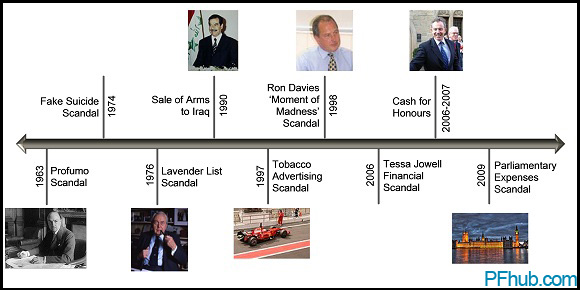 If you can think of any important details that I missed or other important UK scandals that I missed feel free to let me know.