If you're a customer who usually leaves a tip for baristas at your local Starbucks shop now you can do so digitally. Due to surge in popularity over its mobile app, Starbucks will soon incorporate a mobile tipping option, which will allow patrons to tip 50 cents, $1 or $2 anytime within two hours of the initial transaction.
The global coffee chain says the new option, which was actually announced about a year ago, will be available on the updated version of its iPhone app beginning Mar. 19 – versions for Android phones will be available soon. It will also be easier: as soon as the app is open, a customer will simply browse to the pay screen and shake the phone.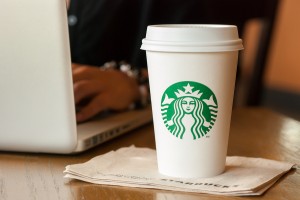 Starbucks customers are quite content with the company's app as one out of 10 purchases are done so with a mobile device. Starbucks maintains more than 10 million mobile app users and processes roughly 11 percent of its transactions through the app.
"As more and more customers are using their phone to pay, they have also asked for a convenient and meaningful way to show their appreciation to store partners," said Cliff Burrows, group president, U.S., Americas and Teavana, in a news release. "We're proud to offer digital tipping as an option through the updated Starbucks for iPhone app for customers in the U.S."
Adam Brotman, chief digital officer, said that customers have been requesting a mobile app tipping feature for quite some time. At the present time, the option is only available for customers in the United States, but a spokesperson for Starbucks told Forbes that it's looking into implementing the tipping feature in more markets.
"This update to the Starbucks App for iPhone is an important next step in digital innovation at Starbucks and one of the many ways we'll expand and improve our digital experience in the months to come," said Brotman in a statement.
Speaking to the Associated Press, Zee Lemke, a Wisconsin Starbucks barista, said the tips help because sometimes they can add a buck or two to an hourly wage. However, there has been a lot of controversy over the years in the way the stores allocate the tips. Whatever the case, a lot of customers are pleased to tip since they understand that a lot of the employees earn the minimum wage.
Tips garnered through the mobile app will be paid out to Starbucks employees in cash in addition to how they already receive their tips.
Customers can also enjoy an array of other features on the Starbucks app, including My Starbucks Rewards, reload, store locator and Starbucks Card eGift. Starbucks says it is the largest mobile-payments retailer in the U.S. today and perhaps even the world. It just shows how companies everywhere are innovating by using the power of the Internet.