Speaking at a crammed Geekpark Conference in Beijing on Monday, Tesla Motors CEO Elon Musk said that the company will begin to manufacture vehicles in China within the next three to four years. Also, Tesla will begin establishing a large network of battery-charging stations in the economic powerhouse.
"At some point in the next three or four years we'll be establishing local manufacturing in China," Musk said, according to a report by Bloomberg News. "China is very important to the future of Tesla. We're going to make a big investment in China in terms of charging infrastructure."
By implementing local production outlets in the world's largest automotive market, Tesla can now sell its vehicles at a cheaper price by not having to pay an astronomical 25 percent import tariff.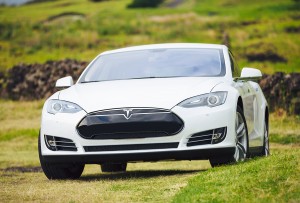 On Tuesday, Tesla will start deliveries of the Model S electric vehicle in China and the event will be hosted by Musk. Many financial experts and analysts are waiting to see if Musk can get the Chinese public to acquire an electric vehicle, an endeavor that the government has attempted to do but has failed.
The Model S will have an 85 kilowatt-hour battery and will be priced at $118,000 (734,000 yuan). This is a hefty price tag because the shipping charges, import duties and value-added taxes are inserted into the final cost for the consumer – this is higher than the $71,000 charged in the United States. Tesla is hoping the Chinese government will hand out its electric car subsidies to help diminish the high price.
Industry professionals say Tesla will likely achieve its goals of selling as many of its electric vehicles in China as it does in the U.S., but noted that overall sales aren't quite high, though there is a lot going for Tesla.
It was also reported Monday that Tesla will use only minerals from North America to produce its lithium-ion batteries that were built in its multi-billion-dollar gigafactory. The company said that it will refrain from using overseas minerals to avoid the environmental impact.
During the morning trading session on the New York Stock Exchange (NYSE), Tesla shares (TSLA) rose 0.4 percent to $198.88. There will be a lot of focus on Tesla moving forward over the next two weeks as it will be reporting its first-quarter earnings on May 7 and investors will be observing its performance domestically as well as in Europe and China.
Tesla Motors was founded in 2003 by Elon Musk, who was an earlier investor in PayPal, SpaceX and Zip2, Martin Eberhard, Marc Tarpenning, JB Straubel and Ian Wright. It is currently headquartered in Palo Alto, California.