Grab your passport and plane ticket and book your reservations because the travel industry will receive a big boost over the next 10 years as more travelers are hitting the skies to get to their destinations.
The global travel industry is expected to increase 5.4 percent each year until 2023, according to a new report entitled "Shaping the Future of Travel: Macro trends driving industry growth until 2023."
The report, conducted by Oxford Economics and commissioned by Amadeus, a travel technology firm, discovered that rising emerging markets will be one of the primary drivers of the increase because of expanding wealth and employment opportunities.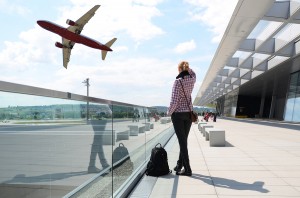 Speaking with 15 of the top travel industry companies, including Amsterdam Schiphol Airport, Turkish Airlines and Heathrow Airport, the study authors stated that China will be one of the leading markets, surpassing the United States as the largest outbound country. In fact, the number of Chinese households able to afford overseas travel will double within the next 10 years.
Other emerging markets include Russia, Turkey, Brazil, India and Indonesia. These markets will also lead air travel growth because non-Organization for Economic Cooperation and Development (OECD) will overtake those of OECD members. This will be the first time in history.
"The global travel industry is gaining strength and changing as it emerges from the recent recession in developed countries. China's development is an important driver, but there are actually many more subtle factors also at play," said Andrew Tessler, lead author and associate director at Oxford Economics. "Shifting competitive dynamics and the persistence of new behaviors that emerged during the recession are both impacting key indicators in the sector."
Business travel, a sector that has experienced a downturn in recent years, is expected to grow again as both the East and West establish new demand and agreements. However, the report states that western business travel won't meet pre-recession levels for another four years. Asia will account for more than half (55 percent) of global business travel within the next decade.
"Forecasts predict a new golden era for travel, which will be welcome news for many segments of the industry that are only just beginning to emerge from recession," said Holger Taubmann, senior vice president of Distribution at Amadeus, in a statement. "However, as the complexities in the business travel market clearly demonstrate, growth will be far from evenly distributed and there are likely to be both winners and losers."
According to MarketLine, the global airline industry generates revenues of more than half a trillion dollars. After the sector expanded business by 12 percent in 2010, it predicts it will be worth approximately $714 billion by 2014.
However, airlines will face a series of hurdles that could hinder growth, such as uncertain economic condition, increasing crude oil prices and diminished economic growth – more consumers might reduce their non-essential spending and cut back on any travel endeavors. This can be found in a couple of studies: one survey of young Britons conducted by travel association Abta showed a reduction in vacations, while American households are taking shorter and cheaper vacations.