Will conventional cable companies become extinct in the next several years? If the trend of cord-cutting expands and a greater number of organizations unleash streaming services then perhaps everything we know about the traditional television-viewing experience may become obsolete.
Case in point, Sony recently launched Vue, an Internet television service that features 55 channels, including three major broadcast networks. The streaming feature takes on Dish's Sling TV, the first over-the-top (OTT) bundle of channels. We also can't forget Apple, which is in the midst of releasing its own Internet TV service.
How is Sony's Vue any different than its competitors? Well, here's a basic rundown of Vue:
Basic access costs $50 per month, or $600 per year. This far more expensive than the $20 per month Sling TV, but still below the average $64 cable bill.
For $60, viewers can access local sports networks. For $70, customers can watch FXM and Logo.
It consists of 50 channels, including CNN, Fox News, the Food Network, Comedy Central and NBC.
Vue maintains a cloud DVR (you can save episodes of shows for up to 28 days) and on-demand programming.
The service is only available on the PlayStation 3 and PlayStation 4. The company noted it is in the middle of working on an app for the iPad.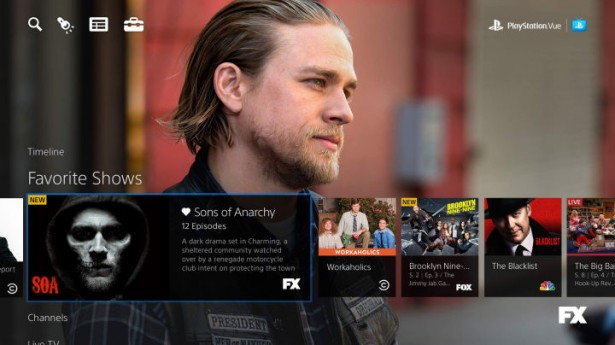 When compared to Sling, the Dish service doesn't offer its customers nearly as many channels or a DVR option and on-demand programming is very limited to only a select number of networks.
Sony is planning to make the Internet TV service available in more cities across the United States soon as well as announce additional content partnerships. With an array of features and functions, many consumers are likely to hop on board, especially considering that Dish garnered 100,000 sign-ups for its own version of streaming TV.
"This is a very ambitious project," said Dan Myers, head of product for PlayStation Vue, in an interview with VentureBeat. "No one has tried to do this over-the-top. We see our users on the PlayStation platform consume a lot of video. We think we have relevant providers of content. We would rank among the top five cable audiences to date based on what our users watch already."
Interested consumers can visit the Sony website and view the entire channel list or sign up for an account. It should be noted that it is only viewable in New York, Chicago and Philadelphia.
Experts allude to the fact that consumers may not be really saving any money when it comes to Sony's new service. Customers will still have to pay for Internet, and likely a more expensive one, and then hand over $50 to Sony. This means people will be paying the same or more than if they kept their cable package.
For all of these companies pushing ahead with Internet TV, it's a long-term move. For instance, it was reported last month that millennial consumers – young people between 18 and 34 – are foregoing their television sets at the fastest pace in several years. According to the data, traditional TV consumption fell for this demographic at twice the normal rate between September and January. Ostensibly, they're heading to Netflix, Amazon Prime and HBO GO.
Whether it's cord-cutting or cord-stacking, Internet TV is the future for millennials and beyond.