Innovation has been one of Apple Inc.'s (NASDAQ: AAPL) characteristic traits since the days of Steve Jobs, and the solar-powered MacBook patent granted to the company on Tuesday may mark the continuation of that trend. Not yet market-ready, the concept's initial patent filing occurred a number of years ago in 2010 according to Yahoo News and other sources, raising questions in some quarters as to whether this particular bit of technology will ever be put into actual, physical production.
The patent described several different formats which might be used to produce the same end result, a Mac laptop that could be powered entirely by direct sunlight. All versions, however, depend on a shared core concept, that of a display with functional features on both sides, labeled rather blandly as an "electronic device display module." Currently, laptop displays have a screen on one side and a non-functional lid surface on the other, which is purely protective. Apple's (AAPL) freshly patented design would transform this surface into a critical part of the system.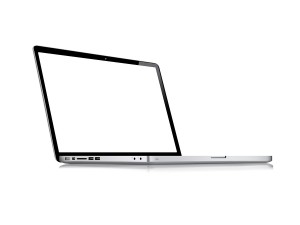 The main concept described in the patent is that of a multifunctional outer (or rear) surface for the MacBook's display. This arrangement would incorporate photovoltaic cells which could potentially operate the computer indefinitely while sunlight fell directly on them.
Additional features include a small screen and a touch sensor that would permit controlling media playback and sleep modes without actually opening the computer's lid. Alternative setups place electrochromic glass on the back of the display, enabling the user to choose between making the rear surface transparent or translucent, or a double screen allowing two people to view the Apple (AAPL) computer's contents simultaneously.
According to the Cupertino, California technology firm's patent application, quoted by Computer World, the solar cells used in the MacBook's solar-powered version would generate between 100 milliwatts and 1 watt of power, which is sufficient to operate the computer and potentially recharge its battery also. The document also provides an in-depth description of precisely how such a dual glass display would be engineered, helping to firmly establish Apple's (AAPL) intellectual property rights over the advanced technology involved.
The electronics giant has made other forays into solar powered devices in the past, including a 2013 solar iPhone patent which never led to an actual product. Partially solar iPhones are more apt to see production, enhancing battery life with a few tiny solar cells under the touchscreen's surface.
If the sun-powered MacBook ever sees the light of day, it will be a major step forward in "green" computer design and a feather in the cap of a company which has thrived in the past by aiming for unorthodox solutions. It might also persuade investors that Apple Inc. (AAPL) still has something to offer in the future after its weaker than expected earnings report.
For more Apple news follow PFhub on Twitter or bookmark this page.