Apple Inc. (NASDAQ:AAPL) is outselling Samsung 1.7 to 1 according to Tavis McCourt of Raymond James. McCourt currently has a target price of $690 on AAPL.
According to McCourt on Barrons:
We estimate Apple has sold approximately 219 million cumulative iPhone 4, 4S and 5 devices (which excludes sales of the original iPhone, iPhone 3G and 3GS) since the launch of the iPhone 4 in June 2010 vs. 131 million for Samsung's Galaxy Series S and Note smartphones since the launch of the Galaxy S also in June 2010.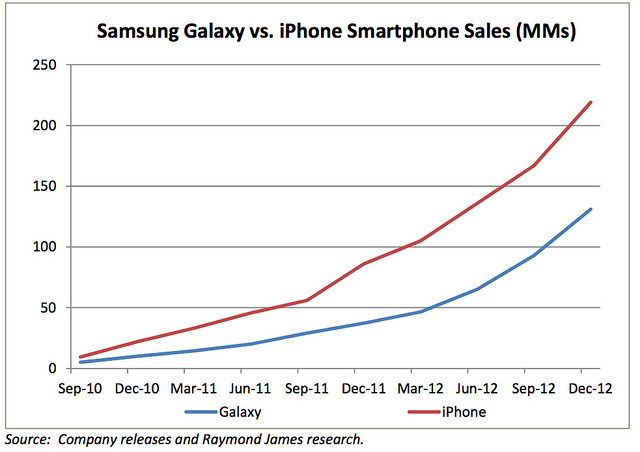 The graph looks pretty for AAPL share holders but let's here about the analytic's behind it. This is where it may get a little 'iffy' because Samsung doesn't publish quarterly figures of units sold. McCourt gathers his figures from what Samsung has said through public relations.
The graphs on the following page highlight (using some generous assumptions) cumulative unit sales for Samsung's Galaxy S, S II, S III, Note and Note II and Apple's iPhone 4, 4S and 5 since each model's respective launch date beginning with the Galaxy S and iPhone 4 launches in June 2010. For the Galaxy handsets, we used the company's periodic unit sales announcements and made sales trend smoothing assumptions for the dates in between. For the iPhone handsets, we used opening weekend unit sales announcements from Apple and also assumed a 66% share of quarterly reported iPhone unit sales were for the newest iPhone at the time and a 17% share for prior generation models still on the market at the time.

Earlier this week, on January 14, Samsung announced via Flickr, it has sold more than 100 million Galaxy S Series phones (S, S II and S III) and more specifically that it had sold 40 million each of its Galaxy S II and S III models. For iPhone fourth quarter 2012 data, we are using our estimate for sales of 48 million iPhones.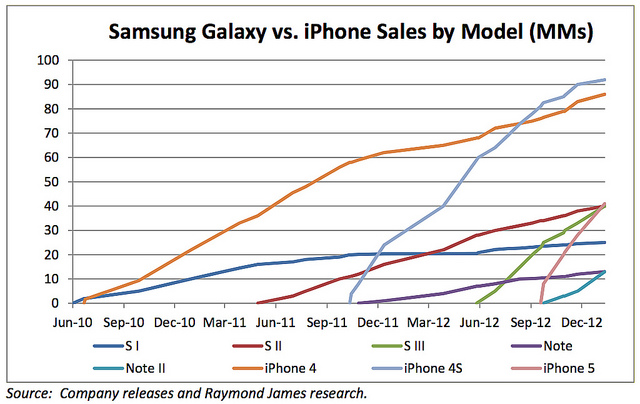 Disclosure: Share Holder