Do you get frustrated when you cook a chicken and it turns out to be undercooked? What about when you cook pasta and the sauce is burnt and damages the bottom of your pot? Well, there's a smart knob, and app, for that to remedy those dire culinary issues.
Meld, which was co-founded by former Pinterest engineering head Jon Jenkins, aims to make the cooking process easier, including for those dishes that are extremely difficult, like poaching an egg. The smart stove knob automatically adjusts your stove's temperature when it's either too hot or too cold and turns the knob to a correct temperature setting.
The Meld consists of three main and important parts: a knob that replaces your current knob; a clip that attaches to your pan or pot; and a mobile app that monitors the progress of your meal in real-time and provides a list of meals. It also comes with a thermometer, a 32-bit ARM-based chip packing a Bluetooth transmitter and an AAA battery.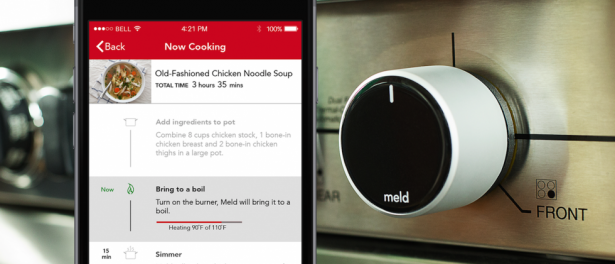 Beginning this fall, you'll be able to purchase the Kickstarter pre-orders for $129 – the Meld founders launched a $50,000 Kickstarter campaign to help fund mass production – or in retail stores for $149. It may be a wise investment to replace those large, expensive and perhaps ineffective devices to track the temperature of your meals with the Meld.
"Traditional recipes provide instructions like 'Cook at medium-high heat for 10-15 minutes until golden brown and tender'," founders Jenkins and Darren Vengroff wrote on the Kickstarter page. "What exactly is medium-high? Should you cook it for 10 or 15 minutes? How brown is golden brown? What is tender? Couple these vague directions with the fact that every cooktop is different and every pot is different and you've got a recipe for disaster.
"We knew we needed a way to consistently determine the exact temperature along with the ability to quickly make adjustments to the burner. We wanted technology to eliminate the guesswork so the cook could focus on the art."
As the New York Times opines, Meld is obviously taking advantage of two major trends in the world of Internet of Things (IoT): coalescing connecting devices with homes and the modernist cuisine initiative occurring in the Western world.
The developers promise that they have other ideas being planned right now because people "have to eat every day."