Google has finally announced that the company will stop the sales of its Nexus 5. The buyers will not be able to buy Nexus 5 from Google Inc.'s (NASDAQ:GOOG) online stores anymore. The device has been listed as "no longer available for sale".
According to a Google spokesperson some of the Nexus 5 devices are still in stock; however they will not be available for sales. The reason for this discontinuation of Nexus 5 is because Google now wants to focus solely on its Nexus 6, which can easily be found online from Google stores. Both 32GB and 64GB devices are available.
Users who want only the Nexus 5 may be able to find it online through non-official websites; however since the product supply has been stopped so they may have to pay higher prices for their device.
Google's decision of stop selling Nexus 5 may not be a popular among many of the Nexus users. The phone was perceived as one of the best in the series.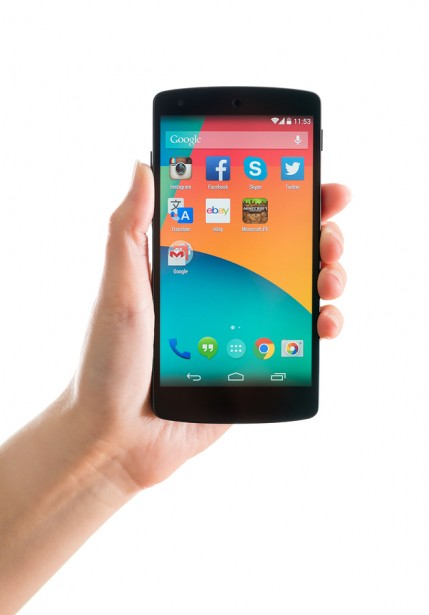 With almost a 5-inch display screen, 8 MP camera, 2GB RAM and a quad-core processor, Nexus 5 became an instant hit. The only limitation to the phone was its inability to hold any external memory cards. The phone hit the market back in 2014 and was available for sales through this year's first quarter.
Nexus 6 on the other hand has a 5.96 inch screen, which conveniently puts the phone in the phablet category. With an AMOLED display the phone is one of the biggest Android powered smartphones available in the market today. The phone has a 1440×2560 resolution, which means 493 pixels / inch. Nexus 6 features a quad-core processor (2.7 Ghz Qualcomm Snapgradon 805) with a 420 GPU and a 3GB RAM.
The phone also offers a 13 megapixel camera with a Sony sensor (IMX214CMOS). The downside is that the difference between its primary camera (13 megapixels) and secondary camera is huge; secondary camera is just 2 megapixels.
Powered by Android's Lollipop Nexus 6 has a turbo charger, which gives the phone's battery life six more hours, something that every smartphone user would want. It takes only 15 more minutes to get the additional six hours.
Just like Apple, Google too recently separated its app and hardware stores form where you can buy your nexus 6. Google's hardware store will also sell other devices including smartwatches powered by Android, Nexus 9 tablet, Nexus Player Nest's smart thermostat and Chromecast. Users will also be able to purchase accessories from the hardware store.
Google will celebrate its new store's launch with free shipping of all the items bought from it, so if you want your Nexus 6 then now is the right time.
With split store for apps and hardware and the company's first ever brick and mortar store, Google is definitely taking a leaf out of Apple's book.
Share of Google Inc. (NASDAQ:GOOGL) opened at the stock market today at a value of 558.48; they were trading at 557.34 almost five hours into the morning session. Google's current marketing cap is 375.63 billion and the stock's range over 52 weeks is between 490.91 and 608.91.