The Russian central bank confirmed Friday that it has cut its key interest rate by one percentage point to 14 percent as part of efforts to stabilize and support the economy, which is in the midst of a horrific recession.
In a statement (via the Associated Press), the Bank of Russia noted that it slashed the rates because the economic threats have started to somewhat taper off in the economy. It added that it does not want to ramp up inflation as it already stood at nearly 17 percent in the month of February – food prices have skyrocketed 23 percent.
This is the second rate cut in the last couple of months by the central bank. It's a signal that it is reversing some of its significant rate increases from December (10.5 percent to 17 percent) that was done to keep the ruble alive.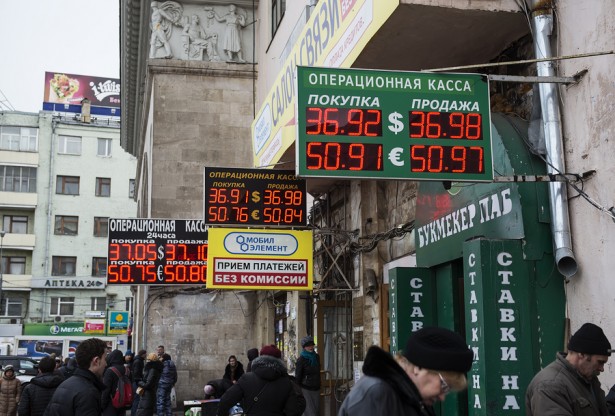 Any interest rate hike is meant to boost a currency but make borrowing more expensive. Over the past year, the ruble has collapsed 46 percent compared to the United States dollar. However, since the rate cut earlier this year, the ruble has improved against the greenback and is trading above its lows.
With inflation, currency devaluation and Western sanctions, Russia's Economic Development Ministry predicts the country's economy will contract by three percent this year. The central bank predicts the economy will shrink by as much as 4.5 percent. The World Bank said in a report Tuesday that industrial activity and consumer demand are timid.
Despite minor positive economic news coming out of Moscow, the central bank has been warning of a deeper recession, which means a full-blown economic collapse isn't far out of reach, particularly with oil prices remaining as low as they are. Cutting rates could lead to further widespread suffering as it could definitely generate higher prices.
Meanwhile, the Russia-Ukraine conflict still persists even as international forces have attempted to implement ceasefires.