It seems more Americans are cutting the cable cord in favor of online streaming capabilities.
SNL Kagan, a private research firm, published the results of a study that discovered the total number of Americans who subscribe for cable, satellite and fiber television services declined by more than 250,000 last year.
This is the first time that the amount of television customers dropped during an entire year. However, there are still approximately 100 million pay-TV subscribers in the United States today: Cable lost two million subscribers, while satellite providers gained subscribers, but growth was quite slow in 2013.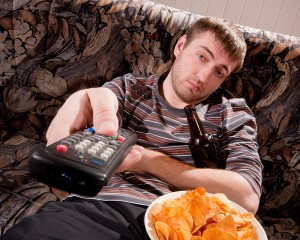 The trend suggests, though, that a fewer number of consumers who are acquiring conventional television services and instead are heading online for streaming subscriptions, such as Netflix and Amazon Prime – the WWE generated buzz in the mainstream media last month over its WWE Network, a video-on-demand Internet subscription service that has original programming, 1,500 hours of content in its library and live monthly events.
According to the report, a growing number of consumers are realizing that there are cheaper alternatives on the Internet. "While seasonally driven quarterly declines have become routine for industry watchers, the annual dip illustrates longer-term downward pressure even as economic conditions gradually improve," SNL Kagan said.
North of the border in Canada, reports have surfaced that consumers will be paying for multiple television subscription as opposed to just one or the other. Deloitte Canada projected that by the end of 2014, roughly 2.5 million Canadian households will maintain both a pay-TV service and online subscription. This has been dubbed "cord stacking" rather than "cord cutting."
Deloitte did note that research has shown Canadians are watching television less and less and that households will begin to taper their TV subscriptions. "There has to be a tipping point here, where in fact cord-cutting will begin to accelerate," said Duncan Stewart, the director of research for Deloitte Canada.
Popularity of music streaming
This comes as another report showed music streaming subscriptions have now transformed into a $1.1 billion industry. Meanwhile, the traditional music sales have fallen, according to the International Federation for the Phonographic Industry. More consumers are adopting digital streaming channels with extensive libraries of music for the average price of $10 per month.
With the ubiquity of smartphones, the switch to digital music has been relatively easy for consumers. In addition, this has also alleviated illegal piracy.
"The advent of the smartphone as a music listening device has been profound for the music business," said Ole Obermann, executive vice president at Sony Music Entertainment, in an interview with Canoe. "With 30 percent plus of the world's population projected to own a smartphone by 2016, that equates to over two billion potential music service customers worldwide."
Despite being on the decline, CD sales still remain the biggest source of revenue for record companies worldwide.