Over the course of the next seven years, the international automotive industry is projected to expand as production will increase by 21 million units to 106 million units each year. As the industry continues to recover from the global financial downturn a few years ago, China will account for roughly half of the auto growth until the year 2021.
According to the report from IHS Automotive, part of IHS Global Insight, carmakers across the globe are predicting heightened demand because of the rising middle class in much of the emerging markets.
Despite North America and Europe being important elements to growth, automakers are hoping the demand in the emerging regions will offset the reported declines in Europe – some are concerned the paucity of accelerated economic growth in Brazil, Russia, India and China will cause excess supply.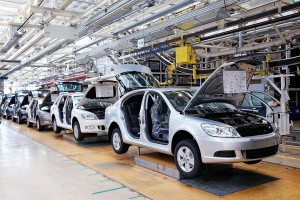 In addition, Japan and South Korea will maintain a focus on foreign production instead of constructing vehicles in the domestic markets. The North American auto market will persist in assisting foreign investments, which are declining in the aforementioned production initiatives.
"Segments are changing globally as the emerging markets tip the balance and mature markets come under pressure to downsize," said Mark Fulthorpe, director global vehicle production forecasting at IHS Automotive, in a statement.
"If we turn the focus to China and emerging Asia we are bombarded by announcements that capacity will be increased particularly by the global OEMs looking to further establish themselves in those kinds of markets. Will it be a long-term threat on a plant by plant basis? Well it would be if the markets weren't materializing to the rate that's being expected."
It was reported last week that China's auto sales bounced back last month even though economic growth slowed down. Passenger vehicle sales jumped 11.6 percent to 1.6 million vehicles, up from 7.9 percent in the previous month.
Although Beijing's middle class is buying more cars, government officials are concerned over the environmental hazards of smog and traffic. This has caused the ruling Communist Party to impose strict restrictions and limitations on vehicle registrations – this has created an unintended consequence because more consumers are buying more cars in order to get them before the regulations are implemented.
Meanwhile, a survey discovered that top United States suppliers ranked General Motors as the worst automaker to deal with. The annual study of the industry's biggest suppliers gave GM low marks on a variety of criteria, such as overall trustworthiness, communication skills and its protection of intellectual property.
"Meanwhile the US automakers, under new purchasing leadership, made significant improvements in their supplier relations," said John W. Henke, Jr., Ph.D., president and CEO of Planning Perspectives, Inc., in a statement. "Now, however, the ranking trends suggest that the Japanese automakers have figured out their problems, corrected them, and are back on track, while the US automakers appear to be faltering.  In fact, this year GM and Chrysler supplier relations have fallen back into the Very Poor to Poor range."
GM stock is up nearly two percent during the Monday morning trading session.