Last week, it was announced that Peter Schiff's Euro Pacific Metals was partnering up with BitPay in order to allow its clients to start purchasing gold and silver with bitcoin. The news went viral considering that Schiff has previously criticized bitcoin on numerous occasions and labeled it as today's "tulip mania."
A couple of days after the announcement, Schiff appeared on CNBC to defend his decision and told the host that the reason why he did it was that he might as well offer another payment method for customers. He added that if he can persuade more people to buy gold and get out of bitcoin then that'd be even better.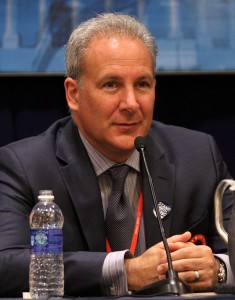 On Thursday, the bestselling author of "Crash Proof" appeared on the business news network again and noted that the business decision hasn't really helped the company's bottom line as only one person has acquired precious metals with the peer-to-peer decentralized digital currency.
"You know, last I checked we only had one person who bought gold with bitcoin," said Schiff, who reminded the hosts and the audience that his company still accepts United States dollar, which he thinks is coming to an end.
Despite his fierce crusade against the greenback and as much as he dislikes it, Schiff conceded that he has to pay rent and allocate salaries in dollars at the end of the day.
Late last year, Schiff told Yahoo! Finance that he understands the frustrations that many in the bitcoin community have over the Federal Reserve, the U.S. dollar and the financial crisis. However, at the same time, he urged them to realize that gold is the real alternative currency because it maintains intrinsic value.
"I have a lot of sympathy for what people are trying to achieve with bitcoin, it's just not going to work," Schiff said in the interview. "People think that because bitcoin replicates all these properties that gold has therefore it can work as a modern day gold standard, but it doesn't have any value on its own." 
Over the past two weeks, the virtual currency has soared in value from $450 it has crossed the $600 threshold.