New Jersey Republican Governor Chris Christie is proposing a new tax on electronic cigarettes, also known as e-cigs, in order to reduce the $807 million budget deficit. The Garden State would allocate the estimated $35 million in revenues into the pot of general spending.
Christie proposed a record $34.4 billion for the fiscal year that starts Jul 1. He unveiled an $807 million funding gap that would bring the budget shortfall to $1.06 billion. This suggests that the potential 2016 presidential candidate is having a difficult time bringing the financially ravaged state into a place of fiscal responsibility.
State Treasurer Andrew Sidamon-Eristoff did tell the senate budget committee that the primary motivation for the suggested tax on e-cigarettes and vaping is for public health reasons rather than financial.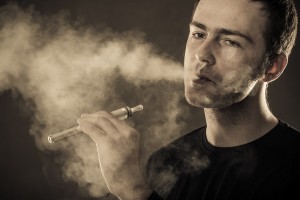 "Tax parity is the logical next step," he said last month. "Why should we favor one form of delivering highly addictive, tobacco-derived nicotine over another, especially in light of the unknown health risks and the obvious marketing focus on youth and young adults?"
However, Peter Fisher, vice president for state issues for Tobacco-Free Kids, says higher costs have limited capacities to tackle the matter.
"E-cigarettes are being marketed just like tobacco products used to be," he said in an interview with Bloomberg News. "We would certainly support his proposal to tax e-cigarettes just like combustible ones, but we would strongly urge that the revenue be used for anti-smoking efforts."
The New Jersey Legislature joined Congress in treating e-cigarettes the same as conventional cigarettes, such as banning sales to minors and applying smoke-free air laws.
It has been reported that the New Jersey governor has urged and attempted to persuade his Democratic colleagues to begin cutting back on spending – the Christie administration overestimated its revenues for three consecutive years.
Experts are urging the state to utilize funds from e-cigarettes to pay for anti-smoking efforts. New Jersey is expected to receive nearly $1 billion from tobacco sales in addition to the 1998 settlement of healthcare expenses for 46 states from cigarette companies. It has been recommended that the Garden State should allocate more than $100 million of those funds to fight against tobacco.
In New Jersey, approximately 10,000 die each year from tobacco-related diseases and illnesses – cigarette smoking creates close to half a million deaths nationally every year.
E-Cigarette Industry
The e-cigarette industry is valued at $1.5 billion. It is a battery-powered device that simulates tobacco smoking by creating a vapor akin to smoke. There have been numerous reviews all over the world highlighting that e-cigarettes have improved the lives and health of millions of ex-smokers, a sign that it could reduce strains on public health budgets and the number of deaths.
Despite the reported improvements in health, various countries and states have or are attempting to implement prohibitions, strict regulations and higher taxes. For instance, the Washington State Senate is debating a proposal to apply a 75 percent tax on e-cigs, while various California cities have banned e-cig usage in public places.
Several countries have outright banned e-cigarettes.
Proponents of e-cigs have argued that the government and tobacco industry fear vaping because it potentially slashes tobacco revenues and the free market will eventually eviscerate unhealthy cigarettes from the market entirely. Also, there could be resentment because despite the immense regulations, public health campaigns and high taxes, cigarette smoking is still prevalent in society.
Officials and critics of e-cigs say further study is needed because they could contain dangerous chemicals that might endanger the user. Health experts also present the case that e-cigarettes could act as a gateway for youth to begin tobacco smoking and produce addictions, though there are nicotine-free e-cigs on the market today.