It's a common occurrence for anyone who has ever shopped at a department store. You're walking around a clothing store, you see a nice looking pair of pants and decide to add that to your initial pursuit of seeking out socks. You have finished your trip and walk over to the cashier. The total purchase comes to $30 and the employee asks if you wish to sign up for the store's credit card and receive 15 percent off your purchase. This is where you decide to say yes or no.
If you listen to this one industry expert then you should probably just say "no thank you."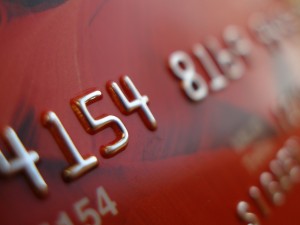 In an interview with USA Today, CreditCards.com senior industry analyst Matt Schulz suggested that consumers refrain from signing up for retail credit cards. One of the primary reasons is the exorbitant interest rate. According to a new report from the website, the average retail credit card comes with a 23.23 percent APR, which is more the double the average non-retail card of 10.37 percent.
The website had actually surveyed 36 retailers that were a part of the National Retail Federation's Top 100 Retailers of 2014 and it was discovered that jeweler Zales maintained the highest interest rate with 28.99 percent. This was followed by Staples and Office Depot with 27.99 percent and Best Buy with cards ranging from 25.24 percent to 27.99 percent.
Schulz argued that customers generally ignore reading through the terms and conditions and determining what the interest rates are, but this is something they should obviously be doing to avoid getting trapped in perpetual debt.
"Anytime that you're making a decision without taking the time to read through the contracts and terms of service, it's not (a good idea)," Schulz says. "It's always best when you're offered one of these cards to take a step back and think about it."
In other words, try not to be influenced by the 15 percent savings because the debt payments will far outweigh that initial savings. Instead, says Schulz, take home brochures the retailer may have regarding its credit cards and make the decision after you have performed your due diligence.
Of course, there are advantages to utilizing a retail credit card. For customers who pay off their balances in full each month, the store offers a number of rewards – roughly two-thirds of companies have installed instant reward programs and introductory financing rates on products.
For instance, Nordstrom was cited as an example that provides cardholders early notifications to sales, free alterations, special event announcements and $20 Nordstrom Notes that can be used in-store.
"That is one way that Nordstrom can compete with a more generic Visa or MasterCard," Schulz added. "And it gets people back in the store."
In the United States, the average credit card debt is $15,480, according to data published by the Federal Reserve (via Nerd Wallet). With such enormous levels of debt and interest payments, perhaps consumers should wait until their debt is completely paid off before rushing to get another credit card.