An influx of investor advisories from states? It appears so after several state departments have issued consumer alerts warning individuals about the risks posed by peer-to-peer decentralized digital currencies like bitcoin.
The latest is the Idaho Department of Finance, which published a news release (PDF) Tuesday highlighting the hazards associated with virtual currencies and how investors can protect themselves by knowing all about the cryptocurrency industry.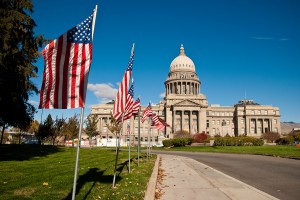 Gavin Gee, Director of the Idaho Department of Finance, explained that a growing number of businesses, merchants and other organizations are beginning to accept bitcoin because it's a medium of exchange. Gee described what bitcoins are, but then immediately cited the collapse of Mt. Gox, one of the largest bitcoin exchanges in the world.
"Unlike traditional currency, these alternatives typically are not backed by tangible assets, are not issued by a governmental authority and are subject to little or no regulation," Gee said in a statement. "The value of virtual currencies is highly volatile and the concept behind the currency is difficult to understand even for sophisticated financial experts. Investors should be aware that investments that incorporate virtual currency present very real risks."
The Gem State's finance department listed a number of concerns that investors should be aware of so they understand what they are getting themselves into by allocating their money into the digital currency
Some of the facts that it iterated include: digital currencies not being insured by the Federal Deposit Insurance Corporation (FDIC), virtual currencies lacking governmental regulation, the value of bitcoins and other alternative currencies are volatile and investors need to depend on the security strength of their computer and Internet connection to ensure funds in their digital wallets are protected.
Other States Issuing Alerts
We reported this week that the State of Nevada Department of Business & Industry issued a consumer and investor guidance notice to alert state residents about the complexities behind bitcoin, virtual currency transactions and the security apparatuses behind cryptocurrency.
It urged all consumers to do their proper research before getting involved in the industry.
"It's important to recognize that in many cases not even the supposed Bitcoin and digital currency experts know enough about the product to help you make a fully informed investment decision," Missouri Secretary of State Jason Kander said in a statement. "It's best to rely on only the most reputable sources of information and do your own due diligence before investing in potentially risky products."
Prior to this, banking officials in the state of Tennessee began taking matters into their own hands and refused to wait for the federal government or the Federal Reserve to take regulatory action against bitcoin.
It was reported that Greg Gonzales, Tennessee's top banking official, is now affiliated with a task force to assess the adoption of bitcoins and how to balance consumer protection legislation with free market innovation to benefit businesses and consumers.
After governments and central banks worldwide issued advisories and alerts pertaining to bitcoin and its exchanges, it now appears that states – perhaps even provinces in the future – will be issuing their own investor and consumer alerts outlining common concerns regarding virtual currencies.