McDonald's is continuing its initiative to revamp its image and cater to a wider audience. One of the ways it is doing so is by introducing larger sirloin burgers to its menu and respond to the age-old question that consumers have of, "Hey, where's the beef?"
Fast-food juggernaut McDonald's is launching a brand of premium burgers and sandwiches that are 100 percent sirloin. The limited-time offering weighs about one-third of a pound and will begin to appear in chains across the United States on May 11. It will cost an average of $4.99.
Each sirloin burger will have three different versions: bacon and cheese, lettuce and tomato and a steakhouse version that comes with grilled onions, mushrooms and white cheddar cheese. Simply put: it's trying to upscale its McDonald's brand.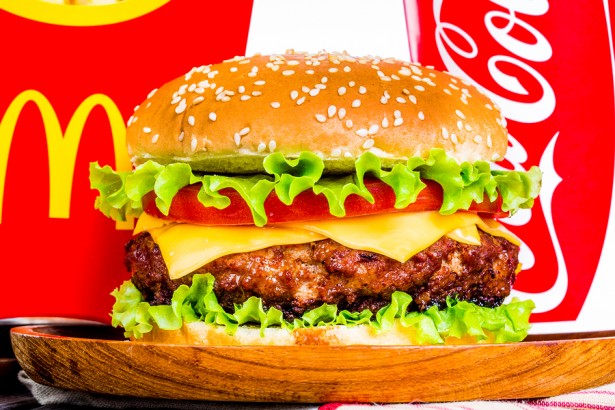 This isn't the first time the company has attempted to incorporate premium, high-scale burgers into its business model. In 2013, McDonald's eliminated its $4 or $5 Angus Third Pound burgers because of lackluster sales that experts say was the cause of consumers finding it too expensive.
"We know that consumers care about their food," wrote McDonald's spokeswoman Lisa McComb in an email to CNBC. "They want it to be real, fresh and authentic. And more than ever, consumers want to feel good about what they eat."
McDonald's CEO Steve Easterbrook published an op-ed in the Chicago Tribune last week in which he opined that he is attempting to transform the global fast-food behemoth into a "modern, progressive burger company." Whether or not this new burger will help reach that objective remains to be seen.
One financial expert noted to the Wall Street Journal that consumers are a lot smarter today and expect better quality foods, particularly when they're more expensive. "They are trying this again because a decent burger place has to have a premium burger," said John Gordon, principal at Pacific Management Consulting Group. "Consumers are more sophisticated and expect better."
Over the past year, due to tumbling sales, falling revenues and millennial customers shunning the iconic brand, McDonald's has done a lot to remedy the image that it's an unhealthy and antiquated company. For instance, it recently announced that it would limit the amount of antibiotics it inserts into its meat, while also revising its recipes in order to minimize the number of preservatives.
Aside from the ingredients, we reported that it's also rolling out a self-serve touch screen that allows customers to build their very own burger. The technology is in its infancy and remains to be seen if it will be rolled out across all of its restaurants.
Moreover, McDonald's made headlines this past week when it announced that it would be raising the pay of its staffers by $1 and would offer its personnel at McDonald's-owned restaurants additional paid time off, college tuition and perks. Experts purported that the corporation was responding the improving labor market as well as growing social calls for the business changing its policies.