Google Inc. (NASDAQ:GOOG) has taken the concept of corporate democracy to a new level this morning by issuing a new class of share that will begin trading on Thursday. The new stock is categorized as a "C" class share and will take over the traditional Google ticker of GOOG which was previously used by the "A" class shares. The "A" class shares will now trade under the ticker GOOGL and will further muddy the water by technically increasing the S&P 500 to the S&P 501.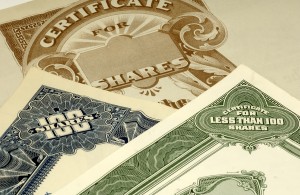 The key element of this new class of share is that they have no voting rights at the annual shareholder meeting. Until now, Google's co-founders Sergey Brin and Larry Page have kept the mirage of corporate democracy with the "A" class shares having 1 vote.
The majority of the voting power in Google is in the "B" class shares which are mostly owned by the co-founders and with 10 votes for each share they allow Brin and Page to maintain their 55.7% majority vote. The "C" class of share will permit Google to issue shares ad infinitum without that voting percentage ever being reduced assuming Brin and Page retain their current amount of "B" shares
At the last shareholders meeting the frustrated "A" holders tried to voice their disagreement at the imbalance in voting rights and introduced a motion to make all shares one vote. Even with the highest level of shareholder support for any motion in Google history of 180 million votes in favor, it was easily defeated once the co-founders voted against using their high vote count " B" shares with the final tally of votes against totaling 551 million.