Google Inc. (NASDAQ:GOOG) News Day finally arrived and with it the rumors can be laid to rest and forever replaced with the newest business and tech goodies yet to be released.
The Google Pixel
The smartest smartphone yet to ever be released is what many are calling the Google Pixel. The stats released today claim many of the following amazing aspects are to be available. Just like we have been given the Google Chromebooks in which are Google from the floor to the roof we now have their phone that has been built in the same manner.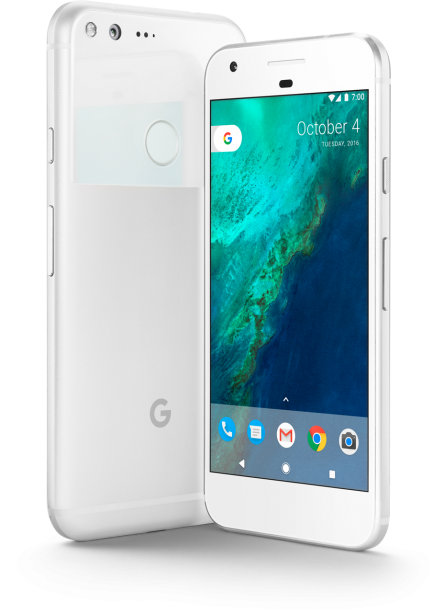 Fifteen minutes of charging time to equal seven hours of total battery charge.
DxOMark testing showing the Pixel to be the ultimate in smartphone cameras as of 9/16.
VR built as its primary basis or purpose for camera functionality.
Photos and videos that have an unlimited storage capacity.
The first phone that offers 4k video followed by 4k storage and backup.
Colors so intense they might need a new name for them.
3.5mm headphone jack unlike certain competition.
For the first time ever a phone that comes equipped with Google Assistant.
All new navigation buttons
A unibody that is made of all metal.
Corning Gorilla Glass 4 in 2.5D
The Snapdragon 821 by Qualcomm
Ram at 4GB LPDDR4
A Quad-Core 64Bit processor
Display by AMOLED
Contrast ratio that is super at 100000:1
Nougat by Android with Google UI 7.1
Front Camera is 8 MP
Rear Camera is 12.3 MP
Photography that has low light optimization
No bump
Rear glass shade
Quick switch adapter
32GB or 128GB non-expandable storage
Fingerprint sensor (called the Pixel Imprint)
Google Pixel XL
The Google Pixel is a 5.5 inch with a battery at 3450 mAh whereas the Pixel is a 5.0 has a battery with 2770 mAh.
The sides on both models have been made slightly angled to allow for a better grip and hold. On the back, dead center is a large fingerprint sensor. Flash that is LED, laser autofocus system, camera, and a microphone.
These cameras are greek gods. The are super fast and offer rapid fire picture taking capabilities that are otherwise unheard of in a phone and many models of digital cameras even.
HDR+ mode is the new default on these cameras to drool over. The greatest part is they start out with the same $649 price tag of other models that wished they had the abilities in the Google Pixel and the Google Pixel XL. Google even mastered a means to eliminate the dreaded video shake while in record so the future of Youtube is sure to be out of this world.
That is just a tip of the metaphorical iceberg for the latest of Google phones that are even to put their own Nexus line to shame.
Google Home
Google Home is this little speaker that resembles no other speaker of its kind. While it appears to be no more than an air mister it is actually one of the latest super devices that has been built from the thought forward by Google.
Your very own Google Assistant lives within the Google Home awaiting your every voice-activated command. Yet Google Home is also still a tiny little speaker as well.
One of the only buttons one will find is a mute option to ensure privacy. Google Home opens in the middle in much the same manner as the low cost room deodorizers but this inside does more than just simply smell good.
Google Home is HiFi sound from a high excursion speaker. Home has a white top and offers an interchangeable colored bottom that one can then blend into the classiest and most modern of decors and not even be noticed. This little speaker is so very much more than a speaker it is almost impossible to completely describe.
Daydream View
Google's VR headset received the same care and attention all of its other devices meaning it is not the boy next door in VR by any means. The Daydream View will have those who own it doing everything but daydreaming.
Google also has designed this VR in a manner that other Android apps can make it even better with YouTube already ready to make your next video viewing experience unforgettable.
Google WiFi
You are happily going to kiss your WiFi router goodbye thanks to the newest WiFi offering from Google Inc. (NASDAQ:GOOG). Google WiFi comes in packs of one or three and offers a super strong signal from basement to attic.
Each WiFi disk offers its very own WiFi point. Google Network Assistant is going to do all the work for you by automatically placing you on the strongest signal.
You can easily share your password with visitors and pause the kid owned devices at bedtime eliminating the fight to turn off their devices. You even have the power to prioritize between the devices online.
Chromecast, Ultra and Audio
Chromecast Ultra is the fastest of the chromecast yet. You now have the ability to stream HDR and ULTRA 4k HD with the clearest pictures and speeds being described as lightening fast. Just plug this little masterpiece into your tv's HDMI port and then use your iPhone, iPad, Android device, or laptop to access the thousands of available vast-enabled and ready apps.
No logins, no downloading. Your phone turns easily into the latest super remote while still allowing you full access to all phone features. While using the phone as a phone the chromecast keeps working as if your phone was lying on the coffee table as the old day remotes would be.
Google Inc. (NASDAQ:GOOG) chromecast Audio gives you the power to send the songs on your phone to the speakers in your home. This is done once the little device is in line with the speaker and then transmits via WiFi.