It's been a while coming, but Google Inc. (NASDAQ:GOOG) is finally eyeing a physical location in New York's SOHO district to sell its wares. In a battle-to-the-end move against Apple, Google's purported digs are just around the corner from the Apple store.
If Crain's New York is accurate, Google plans to open a retail location at 131 Greene St. The store will also be 8,000 square feet. That should be large enough to house a variety of Google goodies. Moreover, it should be a diverse enough selection to please all customer types.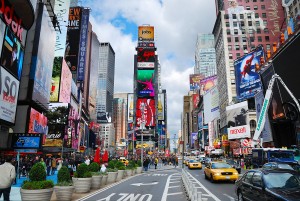 Additionally, the Google store will be right across the street from eyeglass innovator, Warby Parker. It was once believed that Warby Parker would be helping Google design a line of frames for Google Glass.
There are no dates set for when the store would be open. However, if there at the searching stage of the process, it could be a few years. Not to mention, opening a retail store in such a prime location would garner a lot of press and public curiosity. It might also confirm Google's investment in hardware with Google Glass and its Chromebooks.
Nonetheless, this will not be Google's first physical store. It has AndroidLand stores in Australia, India and Indonesia. They sell Android smartphones, tablets and accessories with a focus on the customer experience. Google also has a couple of Chromezone shops within PC World and Currys in London.
It will be a close race to see which tech company has the chops to make retail successful. Apple has long been in the lead, but Microsoft already has 63 locations and Samsung is planning for 60. May the best tech giant win.