While Facebook Inc (NASDAQ:FB) and Apple Inc. (NASDAQ:AAPL) remain friends, the social network is no longer on speaking terms with Google Inc (NASDAQ:GOOG). During a conference call that followed his company's Jan. 30 earnings report, Facebook CEO Mark Zuckerberg explained Facebook works closely with Apple on applications for new mobile products, but has no communication with Google.
"Our relationship with Google isn't one where the companies really talk," said Zuckerberg. On the other hand, he said he is "really happy with the partnership" between Apple and Facebook.
Why give Google (GOOG) the cold shoulder—or vice versa? For starters, Facebook recently announced its own search product—the Graph—which will inevitably compete against search leader Google for advertising dollars. Although Facebook has more than 1 billion users globally, it has not previously been able to cash in on its popularity the way Google has done with its No. 1 search engine. The Graph could certainly change that. Likewise, Facebook recently surpassed Google as the fastest-growing mobile display market.
And although Zuckerberg praised Google's Android operating system for its open access, he implied some doubt that the platform will indefinitely remain that way.
"Android is a very dynamic and open platform," Zuckerberg said in regard users' ability to user Android devices to send text messages via Facebook Messenger. "As long as Google keeps it that way."
Apple, on the other hand, has "been a great partner" for Facebook in spite of its locked-down system, Zuckerberg said.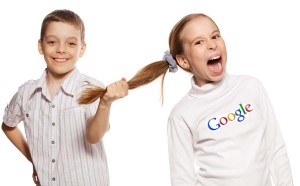 Facebook (FB) and Apple also share the common factor of tumultuous stocks. Apple (AAPL), of course, has fallen more than 23 percent in the past three months after a stellar year. Its most recent earnings report missed nearly all expectations and saw shares fall more than 12 percent within 24 hours as a result. Facebook, on the other hand, if finally finding its footing after a rough ride from its May IPO. After going public at $38 a share, Facebook stock plunged to $20 and the company faced multiple lawsuits from angry investors who claimed the IPO was overvalued.
Facebook's Jan. 30 earnings however, indicate the company starting to make progress in generating advertising revenue. In fact, the company's fourth-quarter ad revenue grew 41 percent to $1.3 billion. Likewise, Facebook's overall fourth-quarter revenue was $1.6 billion compared to just $1.1 billion one year ago.
"Quarterly results may be choppy as Facebook optimizes for the long term, but we continue to believe that Facebook is in the early stages of transitioning its ad platform to better targeted social and mobile ads that will become increasingly valuable to advertisers," JPMorgan's Doug Amnuth wrote in a note to clients. "We would be buying any near-term weakness in Facebook shares."
Stifel Nicolaus analyst Jordan Rohan agrees that the recent earnings signal a turnaround for the social network.
"The quarter was a little like a cold shower after you've been out all night — it's something that makes you sober up very quickly," Rohan told the New York Times, adding the company's results make it clear that Facebook intends to spend more "to go after the opportunities before them."