When will Amazon, Walmart and Target start embracing the peer-to-peer decentralized digital currency bitcoin? Perhaps never or maybe if bitcoin becomes a lot more mainstream.
We reported Tuesday of how Amazon has reportedly declined to offer its millions of customers an option to pay for their items in bitcoin. Amazon follows the same route as other retail giants, such as Target.com and Walmart.com, and will instead likely be implementing a payments network to compete against Visa and MasterCard.
Overstock.com and TigerDirect were two major online retail establishments to offer bitcoin payments, which generated both headlines and huge revenues – TigerDirect made $250,000 in bitcoin sales, while Overstock.com garnered $126,000 in bitcoin numbers.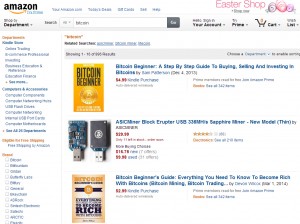 Smaller retail competitors, meanwhile, have hopped on the digital currency bandwagon because it offers a low-cost alternative to regular payment systems and perhaps allows the company to make a little bit of additional profit if the value of bitcoin rises. Indeed, there are a lot of benefits to small businesses who don't want to pay exorbitant credit and debit card fees.
What about major retailers like Amazon? Do they need bitcoin? Let's face it: Amazon is still going to remain supreme in the ecommerce realm whether it adopts the virtual currency or not. The likes of Amazon and Walmart do not need bitcoin – unless a majority of its customers start demanding them to accept bitcoin, but that isn't likely to happen considering polls show a small minority understanding what bitcoin really is.
It would be easy to conclude that if Amazon started to accept bitcoins then it would make the cryptocurrency one step closer to becoming legitimate and it would create huge media buzz and sales. However, it appears that Amazon is settling for developing 3D smartphones, same-day drone delivery and a grocery business.
Rather than installing bitcoin, Amazon CEO Jeff Bezos told its staff that the company will be focusing its attention on advancing its payments, according to Tom Taylor, Amazon's head of payments.
"Jeff's told us it's something we need to be successful in, and should be successful in," said Taylor recently. "The pressure I feel from Jeff is, 'Go faster.'"
Instead of reading headlines that say "Amazon accepts bitcoin," headlines could very well in the future read: "Amazon ends Visa, MasterCard"
Until a major segment of the market demands for these immense retailers to accept bitcoin then the community will not be able to purchase DVDs, computers, watches, kitchen appliances and trumpets in bitcoin. In the meantime, bitcoiners might have to purchase an egift card in bitcoin and then use that voucher at Amazon if they want to (somewhat) experience buying an Amazon product with bitcoin.