Consumers may have benefited from some holiday shopping season price wars, but some retailers—such as Best Buy Co., Inc. (NYSE:BBY) and Toys 'R Us Inc.—are accusing Wal-Mart Stores, Inc (NYSE:WMT) of unethical advertising practices which cost the companies tens of thousands of dollars.
Best Buy has filed complaints against Wal-Mart with attorneys general in several states, claiming the Bentonville, Ark. company conducts misleading marketing campaigns, in which it compares its prices to named competitors without disclosing specific products. Best Buy did not make its complaints public, however, until a dispute over Wal-Mart's holiday iPhone 5 promotion arose.
Best Buy and Wal-Mart each ran price-reductions on the popular Apple Inc. (NASDAQ:AAPL) device in the final weeks of the year, offering the 16 GB model for just $150. But on Dec. 17 Wal-Mart undercut its previous sale, advertising the new price of just $127 on its Facebook page. Because retailers such as Best Buy and Toys 'R Us offer competitor price matching to entice customers, they also met the lower price for customers who brought in the Wal-Mart ad.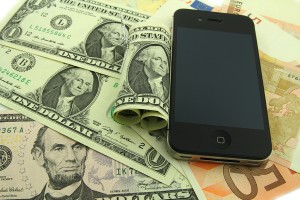 In its complaint, Best Buy alleges Wal-Mart had a small number of the marked-down iPhones in stock—nowhere near enough to meet the demand sparked by the Facebook ad. Best Buy, on the other hand, had a large quantity of 16 GB iPhone 5 models in stock and in matching Wal-Mart's advertised price lost $65,000 in profits in a single day.
Wal-Mart (NYSE:WMT), on the other hand, defends its holiday sales strategy, and claims it had plenty of stock items to fulfill customer demand. The company stated it shipped twice as many iPhones during the $127 sale than its normal average, and the iPhone 5 was in stock at 98 percent of the stores that carry the phone; but Wal-Mart declined to release exact sales figures. The company did imply, however, there wouldn't be enough product to go around.
"Wal-Mart works closely with Apple (NASDAQ:AAPL) to secure some of the strongest allocations of their products," Wal-Mart spokesperson Sarah Spencer told MacRumors in December. "That being said, inventory is a first come first serve basis so we recommend customers come early to secure their Apple (NASDAQ: AAPL) product. We will not offer rain checks but customers should know we will be refreshing our inventory on an ongoing basis.
"This is a price war that's causing many retailers a lot of angst," Leon Nicholas, an analyst at consultancy Kantar Retail, told The Wall Street Journal. "Wal-Mart had lost the pricing discipline it became famous for and now they are desperate to get it back."
The complaints don't end with Apple (NASDAQ:AAPL) products, though. Best Buy also alleges Wal-Mart compared two different Dell laptop models in a single holiday ad. According to Best Buy, Wal-Mart showcased its Dell laptop, then a more expensive model and claimed it cost $251 more at Best Buy.
"They were two very different models, mostly distinguished by design, materials, and specs like back-lit keyboard and battery life, which we know are very important to the customer," Best Buy spokesman Jeff Haydock told the Huffington Post.
In a Dec. 20 letter written to the Florida attorney general's office, Best Buy's general counsel said the ad was "like comparing a Toyota to a Lexus."
Toys 'R Us has also complained to Michigan officials about Wal-Mart ads, claiming Wal-Mart boasted inaccurate prices on toys such as a Fisher-Price kitchen play set and a holiday Barbie doll. Wal-Mart, of course, denies any wrongdoing.
"We know competitors don't like it when we tell customers to compare prices and see for themselves," Wal-Mart spokesman Steven Restivo told the Wall Street Journal on Thursday. "We are confident on the legal, ethical and methodological standards associated with our price comparison advertisements."
If Wal-Mart (NYSE:WMT) were out of stock on a bargain iPhone 5 would you take the ad to Best Buy (NYSE:BBY)? Are Wal-Mart's advertising practices clever marketing strategies or unethical competition?