Apple Inc. (NASDAQ:AAPL) will receive a signal honor in 2015 when the image of Steve Jobs, its renowned maverick founder, appears on United States postage. The Washington Post yesterday obtained a list of planned postage stamps for the next several years, created by the Citizens' Stamp Advisory Committee. This document reveals hundreds of planned stamps, presented in a color-coded list that indicates both the type of stamp intended and whether the images for the postage are not yet in design, in design development, or have had their designs approved already.
Apple Inc.'s (AAPL) recently deceased leading light, Steve Jobs, is listed as being slated to appear on a collectible postage stamp in 2015. The stamp's imagery is currently "in design development," leading fans of the American entrepreneur to generate their own stamp designs online in an effort to second-guess what the new postage may look like. The legendary Apple founder is listed alongside other figures such as Elvis Presley and Ingrid Bergman, as well as a "science fiction writers" series, several Civil War battles, and numerous other topics.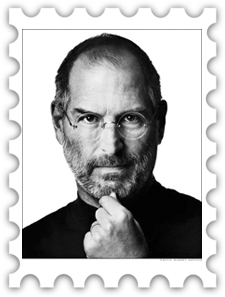 The United States Post Office has recently revamped its standards in an effort to generate more cash from the collectors' market. Though not what it once was, stamp collecting is still an important source of revenue for the government office, which has not been supported by tax money since 1976.
It remains to be seen, however, if there are enough Apple Inc. (AAPL) fans also interested in stamps to make a significant number of sales for the USPS. Those seeking to own a piece of Mr. Jobs' legacy seem more likely to buy another iPhone or iPad than to purchase pieces of sticky paper relating to a mode of communication that is being rendered slowly obsolete.
Intriguingly, a 2011 call for public input on subjects for future stamps revealed that one of the five most popular choices was Bill Gates, the founder of Microsoft and in many ways the arch-rival of Steve Jobs. This potential choice came hard on the heels of a Post Office decision to eliminate the rule that only people who were already dead could be featured.
For more Apple news follow PFhub on FaceBook, Twitter or bookmark this page.