Apple Inc. (NASDAQ:AAPL) and other online retailers won a victory in California court Feb. 4 when the state's high court ruled Apple (AAPL) did not break California law by requiring customers to provide their addresses and phone numbers in order to make credit card purchases online. In a split 4-3 decision, the California Supreme Court said certain state privacy protections do not apply to online purchases.
Defendant Apple (AAPL) was sued in a class action after a consumer purchases iTunes downloads and was asked for identifying information. Plaintiff David Krescent brought the suit against Apple (AAPL) in 2011, alleging Cupertino illegally required his phone number and address to purchase media downloads.
A narrow majority of justices found that a statute of the 1971 Song-Beverly Credit Card Act, which prohibits retailers to require personally identifiable information to complete transactions, applies only to brick-and-mortar businesses. As the law is not applicable to online purchases, the ruling sets a favorable precedent for other online retailers.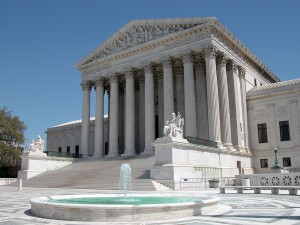 "Unlike a brick-and-mortar retailers, an online retailer cannot visually inspect the credit card, the signature on the back of the card, or the customer's photo identification," Justice Goodwin Liu wrote for the majority court. "While it is clear the Legislature enacted the Credit Card Act to protect consumer privacy, it is also clear that the Legislature did not intend to achieve privacy protection without regard to exposing consumers and retailers to undue risk of fraud."
According to Liu, when the Song-Beverly Act was written, state lawmakers were only concerned with brick-and-mortar retailers requiring personal information. No one at that time envisioned the growth of online commerce."
"In 1990, the idea of computerized transactions involving the sale and purchase of virtual products was beyond any legislator's imagination," Liu wrote. "Such technology was not even a twinkle in Steve Jobs's eye."
Still three justices dissented. One of them, Justice Joyce Kennard, said the ruling leaves "Internet retailers free to demand personal information from credit-care-using customers and resell that information to others. That majority's decision is a major win for these sellers, but a major loss for consumers, who in their online activities already face an every-increasing encroachment upon their privacy."
While representatives from Apple (AAPL) and the plaintiff's attorneys declined to comment at this time, Rhys Williams, spokesman for Senate President Pro Tem Darrell Steinberg said the legislation will look into the ruling's ramifications.
"I think we need to look at the implications of the judgment and see its impact on consumers," Williams said. "And going forward, looking at what steps can be taken to balance consumer privacy and consumer security."
The court's ruling in favor of Apple (AAPL) follows a 2011 decision in which it found Williams-Sonoma violated the credit card act by collecting customers' ZIP codes, saying the data was unnecessary to detect fraud. After the ruling, dozens of class-actions suits sprung up alleging other retailers collected similar information. Gas station owners, on the other hand, were able to prove the ZIP-code requirement was necessary to detect fraud in purchases made at the pump.
Shortly thereafter, lawyers filed class action suits against Apple (AAPL), eHarmony and Ticketmaster hoping to apply the same line to e-commerce. The state supreme court's ruling in favor of Apple (AAPL) promises to hold heavy implications in the outcomes of other ongoing cases.