Apple Inc. (NASDAQ:AAPL) may have made billions off of thinking different, but Brazilian firm IGB Electronics SA is banking from a thinking forward strategy. The company is set to win the sole rights to use the iPhone trademark in Latin America's largest market.
Gradiente Electronica SA—a predecessor of IGB Electronica—registered "iphone" with the Brazilian Institute of Intellectual Property in 2000—seven years before (AAPL) launched its smartphone, but two years after the first release of the iMac. Gradiente didn't release its own phone with the trademark until December. Did some savvy mind at the Brazilian firm anticipate Apple's next move and see the name as a future goldmine for the company? Or was it a pure coincidence? That question may never be answered.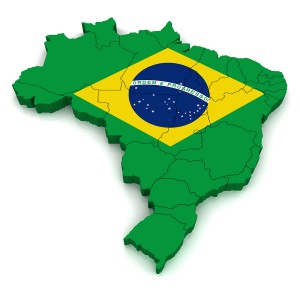 What will be answered definitively Feb. 13 is whether or not (AAPL) can even sell the iPhone in Brazil going forward. Folha de S. Paulo newspaper reported Feb. 5 the INPI confirmed Gradiente holds the exclusive rights to name mobile phones iPhone, although the publication would not name its source. INPI spokesman Marcelo Chiment told Bloomberg a decision had been made, but declined the elaborate. He did say, however, that it is "difficult" to grant approval to Apple's request to use the already-granted trademark, which IGB has secured through 2018.
IGB Electronica announced a new line of Android smartphones using the name iPhone last year. The first model was called Neo One, and they are marketed for about 599 reais–$302. (AAPL), however, is planning to open a group of retail locations in Brazil—its first in South America. (AAPL) CEO Tim Cook has even referred to Brazil as Apple's next major target following China. Should the trademark request be declined, (AAPL) will likely continue to reclaim the exclusive rights to iPhone through lawsuits. IGB, however, may be satisfied with selling the trademark.
"We're open to a dialogue for anything, anytime, "said Eugenio Emilio Staub, chairman of IGB, in an interview in Sao Paulo. "We're not radicals."
The struggle in Brazil is not the first time (AAPL) has wrestled over a trademark. In fact, in order to market the iPhone in the United States (AAPL) had to first acquire the trademark from Cisco Systems in early 2007—mere months before the product's release. Cisco then sued (AAPL) for infringement after (AAPL) displayed the new product at the annual MacWorld conference in January 2007, claiming (AAPL) had approached it several times over the name without a deal. The companies settled in February 2007.
(AAPL) also had to win the right to market its iPad trademark in China when a company called Proview filed numerous lawsuits seeking to keep Apple's tablets off retailer's shelves in the Asian nation. The dispute was settled in July when (AAPL) paid the company $60 million.
In November a Mexican court allowed a company to market the brand iFone, denying Apple's request it be forbidden. (AAPL) is appealing that decision.