Apple Inc. (NASDAQ:AAPL) actually released two updates Jan. 28—the much-reported iOS 6.1 as well as a new version of its Apple TV software. The latter update added support for iCloud, Up Next and the ability to use a Bluetooth keyboard with Apple TV.
The 5.2 software update for Apple's (AAPL) set-top box is already being acclaimed as a more noticeable and exciting release than previous software changes. The biggest change is the ability to use a Bluetooth keyboard with the device. No longer must Apple TV users "hunt and peck" searches using their remote control. Instead, they can now connect a Bluetooth wireless keyboard to any second- and third-generation Apple TV. Although Apple claims users must use an Apple Wireless Keyboard, various media reports already claim any wireless keyboard will suffice.
In order to pair a keyboard with Apple (AAPL) TV, simply make sure the device is updated to the latest OS, access the settings menu and select the new Bluetooth item listed under Remotes. After selecting Bluetooth, the Apple TV will begin scanning for new devices and locate the keyboard provided it is powered on and in pairing mode.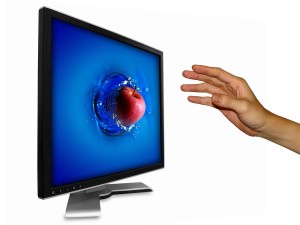 Among other functions, the keyboard arrow keys can be used to move the selection box around the television screen, the return key can be used as the select key and the escape key serves as the back—or menu—button. While playing vide, the space bar or the return key can be used to pause playback and again to resume. The left and right arrow keys can be used to fast-forward or rewind video. Item description can be accessed by pressing the up arrow twice, and subtitles and airplay speaker options can be accessed by holding down the return key.
Music lovers can now access all previously-purchased iTunes files from their Apple TV. The feature, called "iTunes in the Cloud" allows Apple TV users to access, browse and playback their music. iTunes 11's Up Next feature also works with Apple (AAPL) TV. Users can add or edit songs using their Apple remote of the Remote App on iOS. Users can also access the cloud to playback videos they've previously purchased through iTunes if their media servers happen to be on the fritz.
Apple TV users have long been able to receive AirPlay audio and video, but the most recent update now allows them to send AirPlay audio as well. Users can send audio from movies, TV shows, and other content played on their Apple TVs to AirPlay-enabled speakers and devices—including the AirPort Express and other AppleTVs.
Of course, like most Apple updates, Apple (AAPL) TV 5.2 promises to address performance and stability issues related to iTunes, AirPlay, Netflix, iTunes Match and wired Ethernet connections.