In the continuing saga of Apple Inc.'s (NASDAQ:AAPL) Apple Maps guffaws, a Wall Street Journal bureau chief in Afghanistan recently found Cupertino's map of Kabul included several unusual streets, including Bad Monkey, MoJo Way and Hillbilly Hameed. Yaroslav Trofimov noticed the odd street names when he uploaded Apple's map of the capital city on his iPad and responded with a Tweet.
"So is one of #Kabul's main streets really called Bad Monkey, as the new Apple Maps on my iPad claim? #TooGoodToBeTrue," Trofimov Tweetwed, along with a screenshot of the map.
As it turns out, in creating its map of Kabul, Apple (AAPL) had simply copied an old source map from OpenStreetMap without validating its content. Known as the "Wikipedia of maps," OSM is a free worldwide map created by users. The old maps of Kabul referenced by Apple (AAPL) were actually created by Afghan students who assigned fake names to streets which either lacked official names or were the subject of naming disputes. Digital cartographers eventually updated the fake names, but the copies obtained by Apple still included the pranks.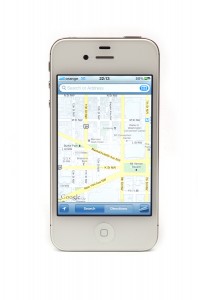 "The issue is that Apple took an old snapshot of the OpenStreetMap data and hasn't updated it since, so things like 'personal' street names are in there, even if they have been fixed since," Kate Chapman, Indonesia-based director of the Humanitarian OpenStreetMap Team, OSM's humanitarian mapping initiative, told the UN Dispatch. "The fact that they don't update the data shows that the incentive for people to improve the map just isn't going to be there."
Even after the errors were reported, Apple (AAPL) did not update the incorrect names. Various media sources speculate the lack of action is due to the lack of iOS use in the mountainous Asian region. What's surprising is that similar issues have not been reported for Apple Maps in other regions of the world.
"What I think is interesting is that Apple didn't choose to use OSM for other areas," Chapman wrote in her email to the Dispatch. "Today I write to you from Kupang, [Indonesia] and if you look on Apple Maps there is only a dot for the city name, but in OSM there is a quite detailed map."
Of course relying on prank street names is only the latest in a long list of inaccuracies that have been reported since September when Apple (AAPL) launched its own Maps app in hopes of replacing Google (NASDAQ:GOOG) Maps on iOS devices. Is it any surprise that the same app that sent Australian tourists almost 50 miles in the wrong direction, placed an Irish airport in the middle of a farm and turned the Brooklyn Bridge into a pile of rubble would fail to double-check the street names it assigned in a foreign city? It makes you wonder if, in fact, Christopher Columbus wasn't using Apple Maps when he ended up in the Bahamas instead of India.
Thank goodness we can download Google (GOOG) Maps for iOS. Do you think you'll ever trust Apple (AAPL) Maps again?