Quarterly earnings reports have proven to be highly variable for Apple, Inc. (NASDAQ:AAPL) this year, with the first report causing the Cupertino company's shares to founder temporarily, and the second report drawing plaudits and eager investment. Apple's third earnings report is due out today, as its fiscal year does not correspond exactly to the calendar year. After its robust showing in the Q2 2014 report, investors and analysts appear confident in a positive outcome, though they seem even more eager for hints of new and exciting products.
Fortune magazine is offering a summary of predictions regarding the Q3 2014 performance of America's leading tech company. This report aggregates the ideas of 34 leading Apple watchers to produce an average prognosis for the firm, and includes the estimates of both amateurs and professionals for a well rounded view of the field. Generally speaking, the amateur analysts are somewhat more optimistic than the professionals, though both are close to Apple's "guidance."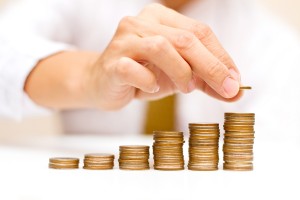 Overall, the year-over-year (Y-o-Y) changes anticipated are an 8.5% rise in revenues compared to 2013's figures, and an 18% boost in earnings. This, of course, would not be difficult to achieve. Apple's 3Q 2013 results were very poor indeed, so even modest success this year will be sufficient to put AAPL in positive earnings territory compared to 12 months ago. iPhone unit sales are expected to be 14.5% higher than last year's weak Q3 performance also.
At this point, however, investors and analysts are almost as eager for news of fresh, exciting Apple (AAPL) products as they are for the more prosaic measure of earnings and revenues. A robust lineup of new electronics translates into continued success through the Q4 period of the current fiscal year and possibly into Q1 of fiscal year 2015. The fact that Apple suppliers are showing high profits and strong share value growth gives the investing world hope that an array of tempting new products will soon be on store shelves to attract consumer interest.
Apple's earnings call, in which Tim Cook will provide additional commentary and news to journalists, investors, and analysts, is slated to occur at 2 P.M. Pacific time today, July 22nd, 2014, which translates to 5 P.M. Eastern. The amount, quality, and accuracy of information that Mr. Cook shares will help determine the market's response to the earnings report as well, and the general direction of investment activity in the coming weeks.