Due to the uncertainty regarding federal and state rules and regulations, precious metal dealers are cautious about accepting bitcoin as a method of payment. Industry insiders tell the International Business Times that questions over anti-money laundering legislation is a major deterrent in allowing customers to pay for gold in digital currency.
It has been known for the past several months that gold retailers have been ecstatic about selling their inventory of gold, silver and other precious metals in exchange for a virtual currency that might be on the cusp of changing electronic payment systems worldwide.
"My concern with bitcoin and the gold business would be the reporting laws that exist for the current gold industry," said Morgan Gold, CEO of David Cloyed, in an interview with the news publication. "There's a lot of questions that haven't been answered about bitcoin and what it represents in terms of currency transactions as they relate to gold."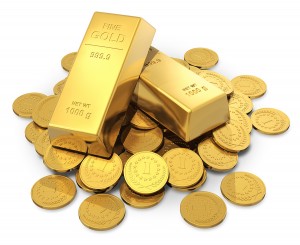 In recent months, bitcoin (BTC) has gained notoriety for its association with the illegal drug marketplace Silk Road. The Internal Revenue Service requires all cash payments of more than $10,000 to be reported by a wide variety of companies. Due to the nature of regulations and the U.S. Treasury's Financial Crimes Enforcement Network's (FinCEN) fight against money laundering, bullion dealers remain wary about bitcoin payments.
Form 8300 seems to be confusing the industry, though. All mentions of cash in the documents do not include bitcoin definitions. CBMint, a new online gold retailer that will soon accept bitcoin payments, will be submitting Form 8300 for gold acquisitions in bitcoin for more than $10,000.
At the time of this writing, gold is trading at just under $1,300, which is equal to roughly two bitcoins.
For more Bitcoin news follow PFhub on FaceBook, Twitter or bookmark this page.