Amazon will be raising the cost of its popular Prime membership by $20 to a total of $99 per year, the company stated in an announcement Thursday. This will be the very first hike in the price since the program was launched in 2005. The online retail giant's student subscription will also rise to $49.
The price increase will take into effect Mar. 20 for brand new subscriptions. As of Apr. 17, current members of Prime who renew their subscription will be doling out $99, but users who renew before the date will still pay $79 for the entire year. Customers have already been informed of the new price.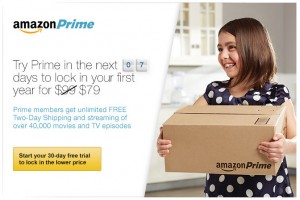 This wasn't a surprise, though. CNet, which was the first to break the news, noted that the company's CFO hinted at a price hike of up to $40 this past January during a fourth-quarter earnings conference call.
For the past nine years, Prime has been quite valuable and instrumental to Amazon's growth and success. The program gives users free two-day shipping on many of its products, access to approximately 40,000 online videos and the option of borrowing more than half a million books from the Kindle Owners' Lending Library. In addition, Amazon has added original programming akin to Netflix.
Amazon is looking into expanding Prime even more. It wants to start offering same-day delivery service and even provide online grocery shopping in new markets – it has already done this in Los Angeles and San Francisco, but the membership fee is $299 annually.
Amazon sells all kinds of products: books, DVDs, electronics, music, appliances and much more. Its inventory of goods has certainly transformed the ecommerce market in the past decade and has hurt the traditional brick-and-mortar retail stores.
Shares jumped more than two percent during the early trading session upon news of the increase.
This isn't the first time that Amazon has increased prices. In October, Amazon raised the eligibility threshold for free shipping from $25 to $35 (8).
Jeff Bezos, CEO of American, made headlines in December when he posted a YouTube video and spoke with CBS News's "60 Minutes" (9) confirming that the company will soon be testing octocopters that will deliver packages in just 30 minutes.
Named "Amazon PrimeAir," drones will be able to deliver packages weighing up to five pounds to customers within nine miles of its distribution centers. All of the drones would be autonomous and fly directly to the GPS coordinates.
"In urban areas, you could actually cover very significant portions of the population," Bezos, who is now the owner of the Washington Post, told the news network. "It won't work for everything — we're not going to deliver kayaks or table saws this way. These are electric motors, so this is all electric. It's very green. It's better than driving trucks around."
Critics of the initiative say it's just science-fiction and a publicity stunt for the company. Also, experts argue it would be very difficult for Amazon to gain approval from the Federal Aviation Administration (FAA), especially when so many other private companies have attempted this before.