Apple Inc. (NASDAQ:AAPL) continue to be undervalued according to many market analysts, remaining stubbornly below $550 per share despite robust earnings and a lack of major negative news. Investors are far more optimistic, paradoxically, about the small companies that ally with Apple to produce specific components for the Cupertino enterprise's electronics products.
Today's announcement by Pixelworks (NASDAQ: PLWX) that it is engaged in a "strategic relationship" with Apple, which sufficient to send its stock prices rocketing upwards by over 40 percent in morning trading. By early afternoon, this had risen to more than an 80 percent gain over opening price.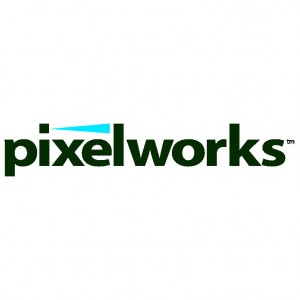 The disclosure was due to a necessary SEC (Securities and Exchange Commission) filing, but was quickly picked up by observers of Apple and its subsidiaries. The annual 10-K report detailed the firm's operations and noted significant ties to Apple Inc. (AAPL). This was enough to boost the company's stock stratospherically high by the standards of its past history.
The reason for this disclosure is simple. Apple Inc. (AAPL) discourages business partners from revealing their link to the firm, unless they can prove that they are being strong-armed into the revelation, typically by legal pressures. In this case, Pixelworks (PLWX) was obeying an SEC regulation that compels firms to reveal any companies whose purchases amounted to 10 percent or more of the filing enterprise's revenues during the previous year. Accordingly, Pixelworks disclosed its two major clients from 2013 as Apple Inc., Hitachi Corporation, and NEC Corporation. In previous years, Hitachi, Seiko Epson, and Panasonic were the major purchasers.
Pixelworks (PLWX) did not reveal what goods or services it provided to Apple. Its product line is fairly diverse, though focused on digital image data and video display processing technology, including HDTV tech. The company makes displays for both mobile devices (such as smartphones) and flat screen TVs, so no firm guess can be made regarding Apple's interest in the firm. However, independent investment analysts such as Seeking Alpha post that a new Apple TV release may be involved. Pixelworks' expertise could indeed assist in easing the competitive disadvantage that Apple currently suffers compared to Samsung television products.
With the smartphone market nearing saturation globally and the demand for computers and tablets softening, market forces may be pushing Apple Inc. (AAPL) towards fresh efforts in the "smartwatch" and television sectors. If this is the case, then Pixelworks is a good choice, since it is well placed to help a more robust rollout of a hypothetical next-generation Apple television product.